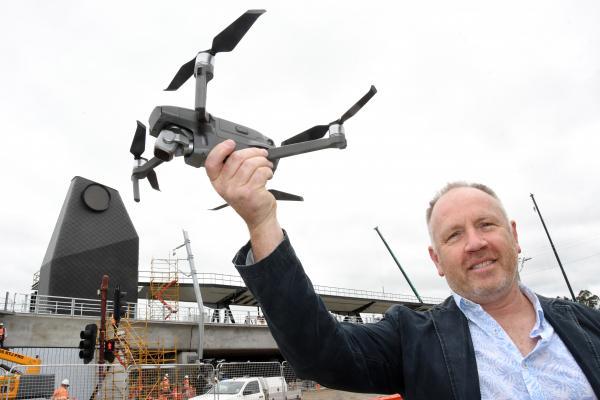 By Mikayla van Loon
Documenting the progress of the Lilydale and Mooroolbark station renewals never crossed Jason East's mind when he began photographing the rail crossings from above.
But since discovering how interested people were in the photographs he was taking, Mr East hopes the shots taken on his drone can one day become part of the history of the two sites.
"I'm fascinated with construction and building because I've got a construction background and just seeing the progress of the projects I thought I'll put the drone up and take a few photos," Mr East said.
"It was just my own personal interest in it to see what it was because I used to catch the train into the city from [Mooroolbark] station.
"I saw it get its update about three or four years ago with the new cafe and things like that. Now to see it transform into a modern construction is quite interesting."
Having had an interest in photography for a number of years, Mr East purchased a drone about 11 months ago and started getting advice from friends who had been using one for over 15 years.
"Anyone can take a photo at ground level but once you put a drone up in the air it just gives you a whole new perspective and you get a view that no one else can get," he said.
During the lockdowns Mr East said he was limited with what he could photograph but it was about photographing what interested him and Montrose quarry was one of those.
"I've had to focus on 'what can I photograph that's interesting to me'. The quarries, that was a good one and obviously the Kinley Estate just seeing that transform.
"I was there in February and I got some pictures and I went back just two weekends ago and just to see how much that hole was filled up was phenomenal."
By posting the photos to social media, Mr East has received an overwhelming response to each of his photographs, with people commenting their own stories about each site he has visited.
"I started to post them on social media and people just got interested, just to see the progress and I think the local community really enjoys it," he said.
"There's been a lot of engagement from the local community, which I've found really fascinating.
"There's a lady who commented on the station that she and her friend 57 years ago used to walk up that track to Croydon High School and they've been best friends ever since. It's fascinating to hear the local stories as well, just from a photograph."
Mr East has used his drone to see whether the Lilydale train line has been future proofed for duplication and to visualise the destruction after the storms in June.
"I just flew out over some of the forests and it was a few weeks after the wind storms and you could just see the trees all flattened. It's just amazing to see. There's a massive patch, probably five or six acres of land, it's just been absolutely flattened."
Now that travel is allowed in Victoria, Mr East hopes he can venture down to the beach and eventually interstate and overseas to expand his collection of photographs.