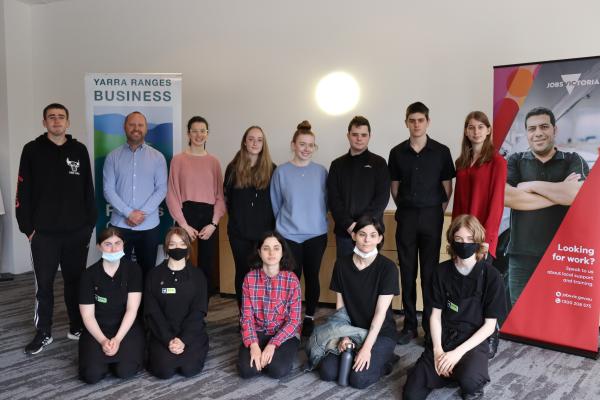 By Mikayla van Loon
A group of young people have just completed a four day introduction to the hospitality industry in an effort to prepare them for getting into the workforce.
The partnership between Yarra Ranges Council, Box Hill Institute and Cire Services saw 13 enthusiastic young people take part in kitchen skills and front of house training.
Graduates from the course were celebrated for their initiative and drive by being part of a morning tea on Friday 26 November where industry partners from wineries, the tourism sector and restaurants could potentially scout for employees.
Recent high school graduate Erin Becker, 18, said one of the appealing factors of taking part in the Hospitality Jump Start for Jobs program was her desire to learn to talk to people, build her confidence and gain some qualifications.
"It was a really good jump start, hence the name to get some good qualifications such as hygiene and food safety and we learnt a lot about the kitchen and dangers around foods which I didn't know about before and the RSA which is a really good qualification to have," Erin said.
"So that aspect and also just getting some confidence which I have gotten from here and just to get out there because I graduated this year. I want to get better at talking to people and stuff like that and just get out there."
For 15 year old Tiarey, the prospect of getting a part time job is daunting and through learning these essential and baseline hospitality skills, she hopes it will help her find a job.
Having now completed the course, Tiarey is excited about joining the hospitality sector and where it might lead.
"I enjoy talking to new people. I think it'd be a fun experience and add to my resume for the future," she said.
Yarra Ranges Council Mayor Jim Child said this project was an important one for the council to help with the pandemic recovery and to facilitate the connection of young people with jobs in the shire.
"To go for a job it's a daunting process, and you can be frightened away from that process but if you've got the confidence and you've got some of the skills necessary for that job, well, you're well on the way to get that job," he said.
"In the Yarra Valley and also our urban areas the hospitality sector has so much to offer because that tourism piece within the Yarra Ranges is so important, and brings so much revenue back into the municipality and these young people are going to play a very important part in that."
For restaurateurs and managers in the hospitality sector, finding staff over the last few months has been particularly challenging.
People and culture manager for Balgownie Estate Kate Fraser said the post-Covid climate is completely different to anything they have experienced before.
"The Seek ads, none of that's working. We've got to get out there and meet the people and try to find them.
"We're doing lots of things within our team, by giving them incentives to recommend people, partnering with as many institutes, schools and universities as we can to try and get people who are interested but it's really hard."
Kate said the good thing about the hospitality industry is that it can be learnt on the job and has so many opportunities to move up the ranks, a sentiment that was reflected by Oakridge Wines general manager Ben Day.
"Anything's possible. You can start off as a casual bar tender or restaurant manager but if you give a long term commitment, if you've got the right attitude, if you've got great application, anything's possible and you can work your way up in the industry," he said.
While Kate said it is great if young people can have some basic skills to jump straight into a job, it's not necessary but courses like this just give students the confidence to handle anything.
Both Erin and Tiarey said one of the things they found most interesting to learn was the placement of cutlery when setting a table.
"We plated a table which had a lot more to it than I thought. You have to measure everything to a certain angle, which is actually really cool because you don't think about that when you go to dining places," Erin said.
"I never realised how symmetrical everything had to be and now seeing people in restaurants and going to a restaurant I think I'll notice that much more," Tiarey said.