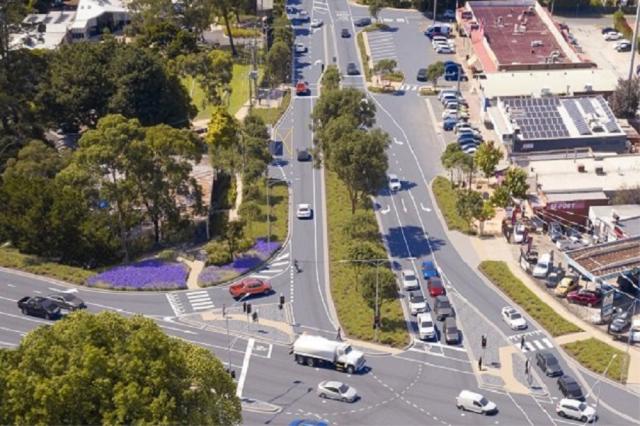 By Mikayla van Loon
It's been a notorious intersection for a number of years as traffic increases in the Montrose area but plans to upgrade a dangerous roundabout aims to reduce pedestrian and driver risk.
VicRoads has released an updated vision for the Canterbury Road, Mount Dandenong Tourist Road and Montrose Road intersection intending to replace the roundabout with traffic lights.
This project is part of a $44.5 million upgrade to Canterbury Road between Bayswater and Montrose to improve traffic flow.
"As part of this upgrade, we're proposing to upgrade the Montrose roundabout to a signalised intersection, adding new lanes and providing dedicated turning lanes on all approaches," the VicRoads website reads.
The proposal was put together from feedback submitted by community members in 2020 but the initial consultation process began in 2017.
"We received a strong response to these new designs, with over 40 people providing feedback via an online survey or our mailbox," a VicRoads document read.
The community's response highlighted their desire to keep as many trees as possible and to ensure the design suits the township.
"We've refined our design to reduce tree losses, improve local amenity and create a safer, more pedestrian friendly, Montrose township."
Pedestrian crossings at Mount Dandenong Road, Montrose Road and Mount Dandenong Tourist Road are a priority, as well as an additional through lane in the inbound and outbound direction, improved turning lanes and slip lanes.
According to VicRoads data 33,000 vehicles use Canterbury Road each day and the current intersection layout does not meet the needs of the traffic demand any longer.
"As part of next steps, we're now submitting an application to the Minister for Planning to exercise powers under Section 20(4) of the Planning and Environment Act 1987 to 'fast track' the planning process."
Feedback can still be provided by contacting the VicRoads team at canterburyroadupgrade@roads.vic.gov.au