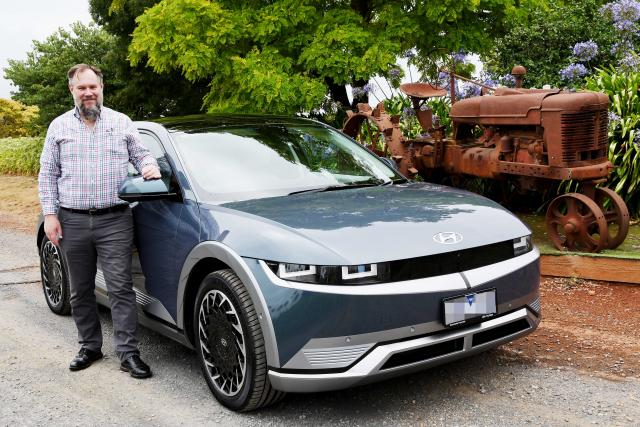 By Mikayla van Loon
Electric vehicles are the new phenomenon challenging traditional fuel operated cars and as we move into the future of an environmentally friendly focused world, it's good to start having conversations with those who have made the leap.
Former Yarra Ranges Council Mayor and Montrose resident Tony Stevenson recently purchased an electric vehicle (EV) and has been very pleased with his decision.
"We're just very lucky to get one of them and couldn't be happier. It's such a solid machine and it's quiet. It's very swift. It's just no fuss, no bother," he said.
"I mean, really, it's the ultimate luxury to have a car that makes no noise, that makes no emissions and just comfortably glides through traffic."
The EV market has expanded in Australia in recent years but it still falls behind other countries in availability of cars and affordability.
Mr Stevenson said when he went to purchase his Hyundai Ioniq 5, there were over 10,000 people interested but just 240 were supplied to Australia last year.
Uptake, however, has still been positive, with the Electric Vehicle Council releasing figures earlier this year showing a tripling of plug-in EV purchases.
In 2020, 6,900 EVs were purchased. That has increased to 20,665 in 2021, with EVs now accounting for 1.95 per cent market share of new vehicles, up from 0.78 per cent in 2020.
"I think just in the last couple of years, the technology and capabilities have leapt forward so that the range of electric vehicles is quite strong, affordability is credible, charging rates are pretty good as well," Mr Stevenson said.
"So it went from being an interesting future idea to a smart idea in the present time."
A new research report from the Australia Institute's Carmichael Centre has found the country to be on the precipice of being a global manufacturer of EVs should the Federal government invest in the technology.
"When it comes to creating an EV manufacturing sector, Australia enjoys advantages other nations would die for: rich reserves of lithium and rare earths, strong industrial infrastructure, a highly skilled workforce, powerful training capacity, abundant renewable energy options, and untapped consumer potential," the report's lead author, Dr Mark Dean said.
Mr Stevenson said the range of his Hyundai Ioniq 5 is similar to that of his previous petrol powered vehicle, getting him 470kms per charge.
"It's just like a mobile phone, we charge at night times. If we need to, when we come home, it's ready to go in the morning. So there's no difference."
Testing out the distance on a trip to Geelong, Mr Stevenson said he could have made it there and back with no trouble but wanted to test out a rapid charging point.
Although a popular tourist destination, the Yarra Ranges doesn't yet have government established charging stations for EVs but they are in the works, after Federal government funding was announced in the 2020 budget.
The Future Fuels Fund initially announced $71.9 million, with $24.55 million awarded in July 2021 to round one of the roll out of 400 charging stations in Australia.
Casey MP Tony Smith said specific sites in the Yarra Ranges are yet to be confirmed but he hopes they will meet the "growing demand for EV charging, particularly from tourists."
"I welcome the plans for expanded EV infrastructure – it's another reason why visitors can stay for longer in the Yarra Valley and the Dandenongs," he said.
"Currently there are charging stations in Lilydale, a number throughout the Yarra Valley, including Warburton and two in the Dandenongs. Based on information from the Electric Vehicle Council, they've been setup by businesses, including those focused on tourism.
"Any new charging stations in our region will only support the increased use of EVs. In addition to other tourism focused initiatives, a lot of effort is going into improving and enhancing the visitor experience."
Having been a Mayor of the Yarra Ranges, Mr Stevenson knows just how important key infrastructure is in the Yarra Valley, particularly when it caters to the much needed tourism market.
"The Yarra Ranges is very much driven by the visitor economy, we need more people to visit us in the Valley and up in the Dandenongs. It would be advantageous to have destination chargers, more prominently available," Mr Stevenson said.
"The current generation of vehicles all have ranges above 300 kilometers. A day trip from Melbourne out to the Yarra Valley and back, for example, you don't really need to charge.
"But having the chargers there helps people who stay multiple nights or who might have some range anxiety, they might still not be confident in the range of their vehicle and they would feel more comfortable knowing that there's a charging option there."
At the moment only popular tourist roads and major thoroughfares like the Hume Highway have ample charging capacity.
Mr Stevenson said he was hopeful that over the next few years availability of charging points and of EVs themselves would increase, particularly if the Federal government made it a priority.
"We just need more availability and better choices, machines and lower price points, effectively EVs are priced as luxury vehicles. At the moment, I think there's only two models under $50,000, so it's just a matter of time.
"Solar panels used to be very expensive. At some point computers and mobile phones were. Progressively they all come down in price with improvements in technology and mass production.
"So we can expect to see that and we'll see it happening over the course of this decade."