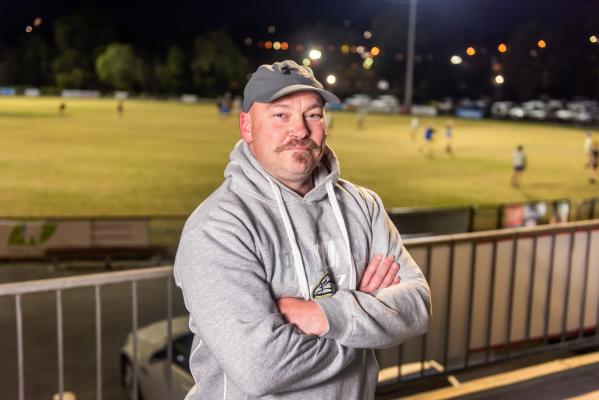 By Mikayla Van Loon
Lilydale Football Club has had a bumpy start to the 2021 senior season but new coach Alan Love said the players and members are taking it all in their stride.
Taking over the top job from Brendan Fulton five weeks ago, Love had to pull his team together through lockdowns and storms while getting used to the role of senior coach.
On Saturday he was directing play from the coach's box as Lilydale demolished Montrose, 13.9.87 to 7.3.45.
"I certainly wasn't expecting to be a senior coach half way through this year that's for sure. My only involvement with Lilydale was going to be supporting Brendan, so when that change happened, that transition happened pretty quick," Love said.
"Luckily for me I was already a part of the club anyway so that helped but the transition itself was interesting because I think the resignation took the players by surprise a fair bit."
Love said the transition was fairly smooth, which was made easier by the work Brendan Fulton had done and the club's committee.
"So pretty much the night Brendan resigned, the club got me in and started training and we just haven't missed a beat really. We've trained a number of sessions now and the players have been relatively acceptive of it.
"I think despite our results, when you lose like we have, the question is how persistent are the players and to their credit, they continue to at least enjoy coming down to the club and having a bit of fun with me and the rest of it as well, so that's been pretty good."
Having been either an assistant coach or senior/reserves coach for 11 seasons now, most recently at Blackburn, Love said has helped him step into this role, particularly with such a young side.
"I guess the difference between that role and this one is that I'm having to prepare these guys for senior football in the senior team, as opposed to being in the reserves team and it can be challenging," he said.
"You've got to make a connection to these young fellas, whether they are 23, 24 or 19 it doesn't matter. As a coach your responsibility is to find out what they enjoy about their footy the most and try and keep that up.
"Particularly in these scenarios that's probably the main thing right now, is getting them to continue to enjoy their football so they can get better between now and the end of the year and for 2022 for that matter."
Looking towards next year, Love said the team needs to do enough to stay in their current division but being in the bottom two and with the restructure of the league it is looking like they will be relegated.
"Our priority is to stay up but the only way you stay up is if you start playing better football and the only way to do that is to teach these young guys how to play better football and they will get there."
"It is what it is and they are the cards we've been dealt and now we just try and make it a winning hand. Without trying to be too ambitious, as a coach you still have to be as much of an optimist as you can without being too unrealistic."
One thing Love is proud of since taking over as coach has been the support his players have shown each other throughout some tough times.
"One of the key aspects of [lockdown] was making sure that, like what you do at work and with your friends, you check in and make sure everyone is alright.
"We've had that extra burden where a number of players have been impacted by that freak storm a couple of weeks ago and quite a number of our boys live up in Wandin and up past Coldstream where there was so much damage and lack of power impacted them.
"So one thing the club has done well in this transition is its put its arm around its players and each other and it is one thing we've done quite well. No one has been left behind."