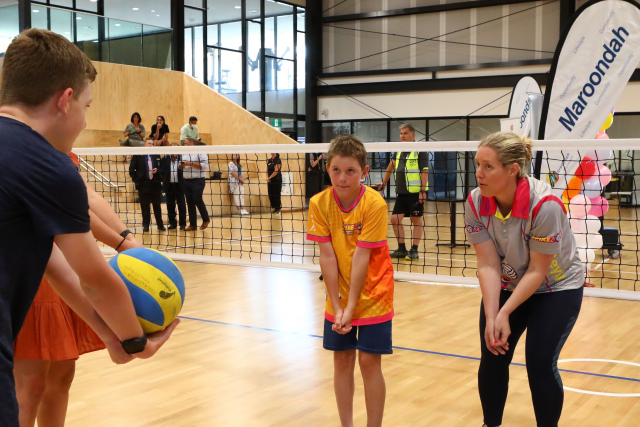 By Mikayla van Loon
As the only volleyball association representing Maroondah and the Yarra Ranges, Maroondah Volleyball had wanted to be an inclusive sport offering for the region for many years.
Now with the introduction of its VolleyAll program, the association has been able to offer all children a place to learn a single sport.
"We already have our Spikezone program, which is our primary school age program and our Academy program for our senior high school kids," association secretary Catherine Gordon said.
"There was just a gap of all these other kids that we had to turn away and that's not fair and there was nowhere else that was providing this for them."
The program is open to all young people between the year levels of Prep and Year 9 during the school terms.
Ms Gordon said as an all abilities program, children with mild autism to children with physical disabilities can attend the program to learn skills in a safe environment.
"We've had a great response. We did a pilot program and on our first day, we had eight kids by word of mouth that walked through the door," she said.
"So we had neurotypical children there but they had physical disabilities and we've had mental disabilities as well. So we've had a combination of different levels of and categories of disability."
With height adjustable volleyball nets, Ms Gordon said participants take part in fun circuits before playing friendly games to get that competitive aspect.
"They'll do a 45 minute program, so that it's not too taxing on them and we do everything to focus on muscle memory, hand-eye coordination, and then teaching them skills.
"The whole thing about the program is that they're not isolated away from their peers, so their program runs alongside the neurotypical program."
Parents, carers and siblings are welcome to join in the program as well to support their child should they wish to.
"We've got one neurotypical girl in the program and her brother is in the program as well. She hasn't got a disability as such but because it's all abilities there isn't any reason she has to be in the neurotypical program because she can be with her brother and he is quite responsive to having her around."
Ms Gordon said after only a few sessions already she has started to see huge improvements in skill and ability.
"When they achieve something new just the smiles on their faces, when they actually achieve it or they feel that change in themselves, the look on their faces that they know they've made that change or they've achieved that new thing makes it all worth it."
The VolleyAll program will return after the school holidays. Ms Gordon said the program would be looking to expand in the new term.