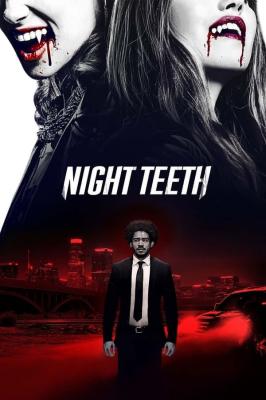 By Seth Lukas Hynes
Night Teeth
Starring Jorge Lendeborg Jr., Debby Ryan and Lucy Fry
Rated MA15+
Night Teeth is a bland, toothless horror-thriller.
Benny (Jorge Lendeborg Jr.), a student and chauffeur, must drive two vampire women around Los Angeles.
Night Teeth has solid performances, Benny grows more bold and assertive as the night progresses, and he has a touching bond with Blaire (Debby Ryan), the kinder of the two vampires. However, this bond is offset by the unavoidable fact of both vampires – not just Zoe (Lucy Fry), the cruel one – being murderous monsters.
Like Bright, a Netflix urban fantasy film from 2017, Night Teeth has extremely vague world-building. The plot is driven by a nebulous conflict between humans and vampires, but the broken truce, the supernatural social structure and even the villain's plans are incredibly poorly-defined.
A bad script, limp suspense and lazy world-building can be forgiven in a B-movie if it has good action, but Night Teeth has hardly any action scenes whatsoever. For that matter, the only decent fight scene is moronically shown in the background of the scene.
Alfie Allen leaves no impression as the blandly posh main villain, and Night Teeth updates the traditionally aristocratic portrayal of vampires in popular culture with a tacky neon party aesthetic.
Night Teeth is available for streaming on Netflix, but you deserve a scarier, better-made horror movie for Halloween.
– Seth Lukas Hynes