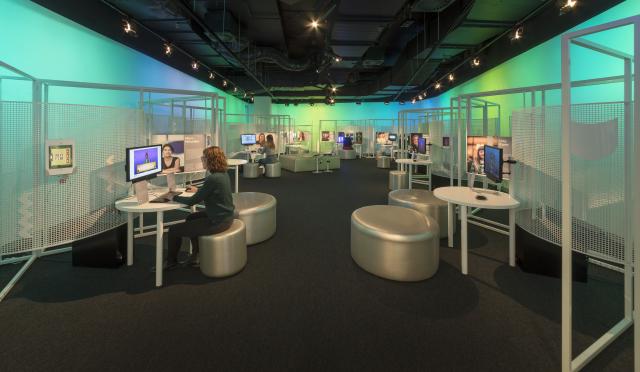 By Renee Wood
A women in gaming exhibit has opened at the Yarra Ranges Regional Museum that aims to challenge stereotypes and grow inclusivity and diversity in the games industry.
Code Breakers: Women in Games has transformed the site with interactive and immersive displays highlighting the gaming world – all while celebrating the achievements of Australian and New Zealand women working in the industry.
Visitors can play an array of video games made by women directors, programmers, developers, digital artists writers, producers and designers at the ACMI touring free exhibit which opened Saturday 5 March.
It's hoped Mount Evelyn residents will visit the exhibit and be inspired to see where their passions and career can lead them.
Lisy Kane has a game featured in the exhibit, Armello, and is the co-founder of Girl Geek Academy which aims to find solutions to issues faced by women in the industry.
"Our next steps will be basically responding to whatever we think is required by the games industry and other areas of STEM, with the goal of encouraging more women and encouraging more leadership," Ms Kane said.
Ms Kane helped launch the event, speaking at Code Breakers International Women's Day 'On Gaming and Social Change' online event on Tuesday 8 March.
Ms Kane has been in the industry for the past eight years and said technology and creativity lead her to the career.
"I've always played video games but growing up, I didn't know that you could make them. So I actually didn't figure out you could make video games until I was entering university," she said.
Ms Kane studied game design and business and has since been working in the industry in various roles and knows how tough it can be for women to enter it.
"It is a very, very tough industry, and unfortunately there are so many stories around women and other underrepresented groups experiencing harassment and burn out, all that kind of stuff."
Some 46 per cent of video game consumers are female, although only 23 per cent of the Australian industry is female.
Ms Kane said that's higher than the global average but we still have a long way to go.
"Australia has done a lot in regards to improving gender diversity, and it actually does come from a lot of things like Code Breakers and other initiatives that the Australian games industry does."
Paper House Producer Caitlin Cronin will also be joining the online panel.
"We'll talk a little bit about the video game industry and where we think it's going and how it can improve in terms of diversity, safe work practices, all of those sort of issues that are coming to the fore with such a large industry," Ms Cronin said.
Ms Cronin said although it's a difficult industry to get into but the benefits are to work with interesting and dynamic people.
"I felt like I'm working amongst my kindred spirits, in a way. It's sort of a lot of really creative and interesting people.
"Making a video game comes with a lot of unique challenges that are very unique to the industry itself, so it's a learning curve, but in a really interesting way."
Ms Cronin said she's excited to be part of the Code Breaker exhibit in the Yarra Ranges and hopes it can show young residents where their passions can lead them.
"Video games have very much been a big part of my life growing up and a very big interest that I've had, and working in the industry was always something that I have aspired to."
School holiday workshops, online events, quiet hour sessions and lots of games to enjoy are all part of the program until it closes 15 May 2022.
For more information visit https://yarraranges.sales.ticketsearch.com/sales/salesevent/51268
https://www.yarraranges.vic.gov.au/Experience/Events/Code-Breakers-Women-in-Games