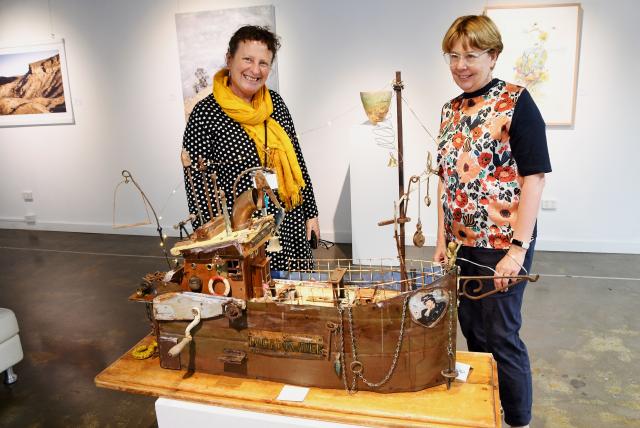 By Renee Wood
Getting to see the inner workings of an artist's studio allows viewers to understand the techniques and designs behind the work.
As artists across the Yarra Valley open their doors over two big weekends, Mount Evelyn residents are invited to get an inside look during the Yarra Valley Arts Open Studio events.
Take a look into the studios of some of the Yarra Valley's favourite artists who are taking part on 19, 20 March and Upper Yarra artists the following weekend 26, 27 March.
An exhibit coinciding with Open Studios has also opened at the Yava Gallery in Healesville with works from the various artists on display which will run until 3 April.
Warburton artist Ryan Tews is joining the event for the first time and he's looking forward to sharing his work from various mediums, including photography and painting.
Mr Tews said the most rewarding part of creating art is sharing it with others.
"What other people see in the work is usually quite different to what I see and that's actually one of the joys of making art for me, is to actually see how other peoples' experiences shape their interpretations of it," Mr Tews said.
Mr Tews will have his photographic series on display which captures the diverse landscapes of the local area.
"That photography is using all different cameras from all different eras, from ten years ago to 100 years ago."
Visitors can also get up close to Mr Tews woodwork and paintings, while demonstrations will also take place.
Mr Tews work focuses on the complex ecological systems that make up the Upper Yarra.
"One aspect of it is the river the Birrarung, Yarra River, that's a massive inspirational force and massive force on the landscape out here.
"One of the jobs as an artist for me is to really just show people what's already there."
Yarra Glen artist Beth Williams is also taking part in the Yarra Valley open day for the first time.
The abstract landscape painter said she started painting two years ago and finds solitude and comfort within her craft.
"I work a lot with people as a music therapist and I work quite intensely with people, and that's probably my main motivating factor for painting in landscape, because it's good for my mental health to have some solitude and focus in landscape," she said.
Ms Williams will have three bodies of work on display, which are using different mediums and inspirations.
"I hope they [visitors] get out of it a sense that anyone can engage in art making, and that it's accessible and it can happen on any scale that you have materials available for."
To browse the artists involved, visit https://www.yava.org.au/openstudios