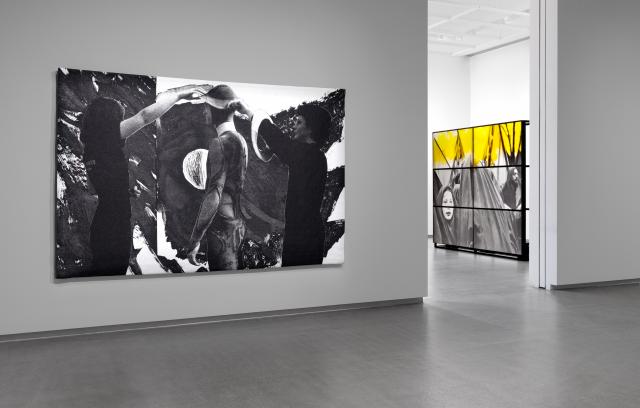 By Renee Wood
The Yarra Ranges truly is blessed by a many number of artists and galleries showcasing various works, like that of collagist David Noonan.
His recent monochromatic display highlighting contrasting collages is on show at the Tarrawarra Museum of Art, bringing mystery and intrigue to all who visit.
'David Noonan: Only When it's Cloudless' is a solo exhibit from the Ballarat born collagist who now lives in London.
Noonan is well known around the world and works across several mediums including silk screen, linen and tapestry to bring his collages to life on a grand scale.
The overall greyscale palette has informed his practice since 2015 and his work has been renowned for his imaginative incorporation of images.
Noonan's capability of merging different artistic elements into one brings focus to different dimensions, setting the terms for each foreground and background.
Within the tapestries, some distinct lines can be seen which allow the centre to pop out, while the blend of black, white and grey threads come together.
TWMA Curator Victoria Lynn said his collaged works make you believe they are all cut from the same reality.
"He unhinges found imagery and then creates a new world for us to look at," Ms Lynn said.
Ms Lynn said Noonan always works with images found in books and magazines to merge different worlds together.
"He doesn't take these photographs himself he actually goes around antiquarian bookstores and rummages through street markets to find photographs and images that he's really drawn to," she said.
Each work is left up to interpretation but Noonan's focus can be seen on performing artists through the muses he chooses.
"The subjects that he tends to focus on are performers for the stage…he often captures them at a moment when they're either preparing for a performance or after a performance.
"So these are the in between moments where the person is two things – there themselves, but they're also the performer."
Pieces have been provided to the gallery from public and private collections across Australia, while Noonan created the main piece 'Only When it's Cloudless' for the solo exhibit at Tarrawarra.
The large templates were all part of the one photo from a theatre show but have been separated and placed around the room as if part of the set design – inviting the viewer through to become part of or observe the performance.
"That is a phrase from a 14th century Buddhist monk – who talks about that you shouldn't always look for the moon only when it's cloudless. So you should just be willing to embrace the cloud and it's about just being in the moment," Ms Lynn said.
Film is another element incorporated into the show, providing the only colour of yellow hues to explode across a black and white film shot on a 16mm camera.
"It's so effective this is the only colour in the exhibition and I have to say when the show opened Russia had just invaded Ukraine and everyone said, it's like the war," she said.
"That's the thing with these works, you can bring your own story to it really – it's not a predetermined narrative, the associations are quite loose.
"That's the beauty of collage that it allows you in a way to bring your own to bring your own emotional connection to it."
Only David Noonan: Only When its Cloudless is open until Sunday 10 July.