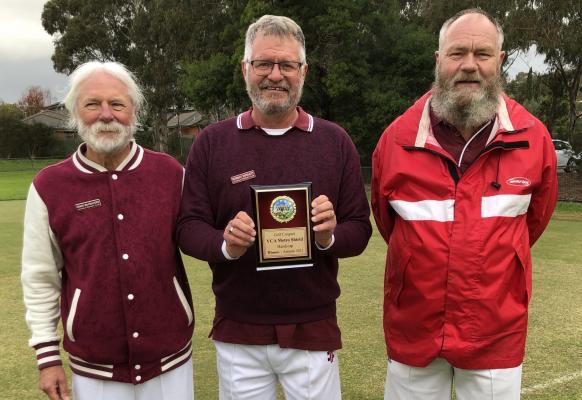 By Mikayla van Loon
The Lilydale Croquet Club has recently taken home the Eastern Region series two Autumn Shield competition trophy.
The competition spans over the three months of autumn, with a number of teams competing weekly both at their home court and away.
Croquet has two competition options – level play for those without a handicap and a handicap competition.
Lilydale Croquet Club captain Murray Howlett said their team comprised six players who played in the level play East Melbourne division against teams like Sandringham and Brunswick.
"We were able to win the B grade competition which we were very happy with because it was the first time in a long time that we've actually entered a team in the competition," Mr Howlett said.
"Because the club's grown, because we've got more members and more members are wanting to play at a higher level and play competitive croquet, we were very happy to have that team win."
President of the club John Thomson said the last time the club played competitively was at least 27 years ago, although some players have combined with other clubs to enter.
Mr Howlett said the same six players also entered the handicap competition against teams like Sandringham, Mornington, Ivanhoe and Monash.
Coming runners up in the Eastern Region competition, the team went on to play the winners of the Western Region being Brunswick in a semi-final.
The winners of the east being Sandringham played runners up of the west, Essendon.
Both Sandringham and Lilydale made it to the finals, which luckily enough were to be played the last day before Melbourne went into lockdown and Lilydale was able to make it count, winning the Autumn Shield for the Eastern Region.
"So we basically won the whole Melbourne metro competition in our first go at it for a long time, so we were pretty happy," Mr Howlett said.
"And everyone knows about Lilydale croquet now. I think there are even more people within the club that are getting more interested."
But Mr Howlett didn't only lead his teams to victory, he has also recently competed in the Victorian Regional Championships for series two and won.
Representing the Eastern Region, after winning his spot, Mr Howlett went on to compete against 11 others from all over the state.
There were people from Horsham, Wangaratta, Orbost, Geelong and Bendigo just to name a few.
"I was lucky enough to win nine of the 11 games and that was enough to win the championship," Mr Howlett said.
Although he qualified for the regional championship last year, Covid-19 prevented him from playing, meaning this was his first time competing.
Mr Thomson said Lilydale Croquet Club has been strong in the regional championships now for three years, with another member winning the series three competition in 2019.
"People realise there is a club at Lilydale now, nobody has really seen anyone from there for a while, so Lilydale is now on a plaque, we have a couple of shields to hang on the wall now," Mr Thomson said.
"People realise now that Lilydale has good croquet players in their club and that holds us in good stead going forward and just puts us in prominence with the other clubs in the district and in Victoria."
The club is now looking ahead to the spring competition which is expected to start in late August.