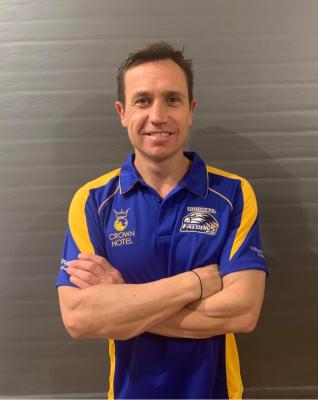 By Mikayla van Loon
The Lilydale Football Club's seniors season may be over for this year but looking ahead to 2022, new head coach Luke McCormick is excited to get back to training and playing.
Not planning on returning to coaching so soon after finishing up with premier division side South Croydon last year, McCormick was surprised when the opportunity arose to coach at the Falcons.
"I had the year off and wasn't planning on going straight back into coaching at all but I look at things as opportunities," he said.
"I came and just helped out [at the club] for a little bit and got to know a lot of these young guys that I hadn't met before and the feeling around the place was really good and I just saw it as a really good opportunity to be able to take on this group."
McCormick started at South Croydon just after they won a premiership and the team made the grand final the following year under his leadership.
Coming from a premier division side which had quite a number of senior players who helped carry the team and inspired the younger guys, McCormick said it will be a shift in coaching a team that is the complete opposite.
"Now I've come to a group that is young and down the bottom of the ladder, so I've pretty much gone to the opposite end of the scale and I look at it not only as a challenge but as a really exciting opportunity because I reckon it will be a lot of fun," McCormick said.
"At the same time, I've got a connection to the club and I don't want to see them fall down any further."
While football clubs go through changes and phases of losing their older team mates, McCormick said the Falcons seniors players have taken it in their stride and some players have stepped up into that senior role.
"I think with the experience a lot of them got playing this year and the fact that majority of them have been training with the seniors now for over a season, they probably are a more mature group than most people think. They are very coachable, they are willing to listen and they want to learn."
McCormick said coaching local footy is not like coaching AFL, nor is it like coaching in the premier division.
Hoping to keep his coaching simple, McCormick wants to create a fun environment while still defining each of the players' roles, so they have purpose and can play as a team.
"Coaching is very, very different every year and these days more so and then you throw in what we've had for two years. It's just about knowing the players as best you can and being realistic."
"It's about creating as much of a fun environment as you can and still being able to get the best out of them by teaching them but letting them play their natural style of game at the same time."
Although still quite a few weeks away from preseason and starting the 2022 season, McCormick is looking forward to getting started and seeing what the team can do with the experience they have had this year.
"I'm most looking forward to the energy and excitement of the playing group and everyone else at the footy club."
Because of the year we've had, McCormick said people will just want to be in and around the football club as much as they can and he is excited to get the community involved, re-engage them and give them something to look forward to.
On a broader scale and as a PE teacher, McCormick said community sport is so important for all age groups and hopes children return to playing sport and don't just get lost in their screens.
"I just see local sport and by extension, local footy but all of local sport is just so important for kids going forward. It's kind of scary in one sense but hopefully it is really exciting for what it might do because it might reinvigorate local sport in the area as well."