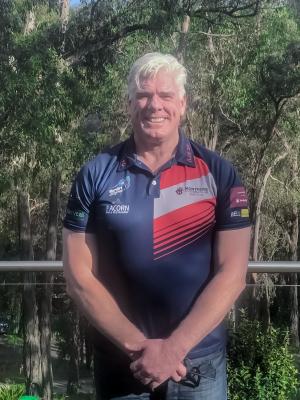 By Mikayla van Loon
Montrose Football Club will be welcoming AFL royalty to its coaching team for 2022, with the announcement that Gary Ayres will fill the position of senior coach.
The legend of the game started his AFL career at 17 with the Hawthorn Football Club in 1978 and went on to play in five premierships in the '80s and early '90s.
He was the recipient of two Norm Smith medals and captained the Hawks in his final two years with the team.
Making the transition from player to coach, Ayres jumped on as the coach of Geelong in 1995 and then Adelaide in 2000, before taking up the role of senior coach at VFL club Port Melbourne.
Parting ways with Port Melbourne earlier this year, Ayres said he wanted to remain a senior coach at some level but it was about finding the right fit.
"It was a case of just trying to make the decision in my own mind as to the best fit for me. What I could possibly offer the football club, where I saw them now and clearly where we would like to see ourselves in the future," Ayres told Star Mail.
Living in Mount Evelyn for eight years now, seeing the list of players signed on at Montrose and with the club having a clear goal of wanting to get Montrose back into Premier Division, Ayres said these were all deciding factors for coming on as senior coach.
For Ayres, he's not worried about the adjustment from VFL coach to local football coach but said there may be times where he has to temper his expectations.
"Clearly, there is some sort of difference, although with the way I believe a standalone VFL club operates, there's probably not that much difference in relation to what [local] clubs do to operate," he said.
"Everyone that I know, and being involved in footy for a long time, we're all chasing that one thing, and that's to be successful.
"It's really about the culture. It's really about the emergence of young talents and trying to nurture that."
Ayres has started speaking with the team and coaches, just reaching out to introduce himself and say hello.
These, for him, are important foundations for building a good chance at success next year and he plans on spending the next few weeks understanding who has what role both on and off the field.
"Getting an understanding of how the football club operates, I think that's really, really important. That's why I probably call it a real fact finding mission I'm on at the moment.
"The players have always been, in my mind anyway, the most valuable assets any organisation can have."
Although not a true indication of what Montrose Football Club could achieve, Ayres was confident 2021 showed potential to be a real contender in the competition.
"There's certainly some growth there but they had a really good run with injuries and were able to have most of their better players playing.
"So I think we need to improve our depth and certainly that depth needs to come from our junior program, those that are showing some sort of talent, and we would hopefully get them to blossom into really, really good players."
Ayres' aims for the side seem quite simple: lay good foundations, get better at football and win some of those smaller margin losses but he believes that is the key to success and eventually making it to Premier Division.
"I guess the long term goal is to hopefully get back into Premier Division but we know a lot of things will have to happen before that," he said.
"It's about the growth that we can have as a club and we would like to make the club a destination club and you need to have respect within the community, you need to engage the community, you need to become very credible, and that players want to come to the club because they see that it's a good fit for them."
Having always loved being involved in football and having a passion for the game ever since he started playing, Ayres just wants to see his players enjoy some of the success he had.
"I've always been one to roll my sleeves up and certainly try and get in and make, I guess, a difference in how you can help young men and the overriding thing for me is to see young men achieve some of the successes that I achieved in my time as a player and a coach."