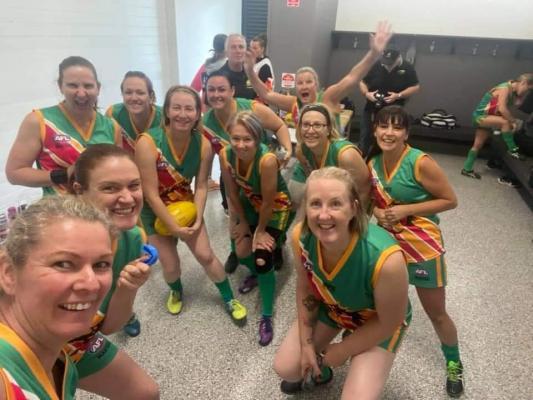 By Mikayla van Loon
After a successful first year playing, the Mooroolbark women's veterans football team are looking to expand for next season by recruiting more players.
Player and assistant coach Alison Fitzgerald said given many of the players hadn't even touched a football before, the team took it in their stride and had an enjoyable inaugural year.
"For our first season together, we had an absolute blast. We didn't get a win on the board at all but I guarantee you every single game the girls came off the field so happy," she said.
"We just improved so much from the start of the season to the last game basically and this was noted by the other teams in the competition too."
Now the team are looking to recruit new and enthusiastic members to join the fun for their second season.
"A big lesson that we learned from last season, we played 16 aside on the actual ground and even though we had about 22 registered, we were scrounging every week for players," Fitzgerald said.
"We definitely want to have a really big list this year to help combat struggling each week."
Fitzgerald said ideally the team would like to get a roster of 30 players for the 2022 season, knowing that some won't be able to commit to each week because of work or injury.
Almost all players have re-signed for next year and five more women have already signed on to play.
Although early, the Mooroolbark women have started their preseason training but the Mustangs have their sights set on playing the Super Nine Tournament happening on Saturday 27 November.
"It's basically just a bit of fun where we play nine on nine in a short, sharp version of football basically.
"Obviously, over 35 it's easy to lose your fitness. So we are just looking at keeping the momentum going but also having that little goal in mind of being prepared for the Super Nine Tournament."
While Fitzgerald said the team takes their training and playing seriously, for the most part it is just about having a bit of fun with friends.
"Our main main thing really is about having fun and we were a team that were noted for always having a lot of fun on the field this season," she said.
The Mooroolbark veterans team is not the only group of women looking forward to the 2022 season, with a senior girls team joining the competition next year.
"So we tried last season but we couldn't get enough girls, so this season with the under 18s from last year moving up, we actually have enough for a senior competition," Fitzgerald said.
With the help of former Mooroolbark seniors premiership player and AFLW skills coach Anthony McDonald, as well as senior coach Dom Ciancio, the focus next year is really on building the women's teams.
"So we've got coaches on board this year who will really be able to assist with building the skills of the women.
"From Mooroolbark's point of view, we feel that the women's program is going to have a really great crack this year and we've got the support structure of a lot of those coaches who have specific skill sets.
"I think what we're trying to do is express to the wider community the professionalism of Mooroolbark Football Club and the culture that we have down here and that the women's football very much is about having fun and really enjoying the game."
For inquiries about joining the veterans team Alison Fitzgerald can be contacted on 0411 121 043 and for the senior girls team, Dom Ciancio can be reached on 0425 835 555.