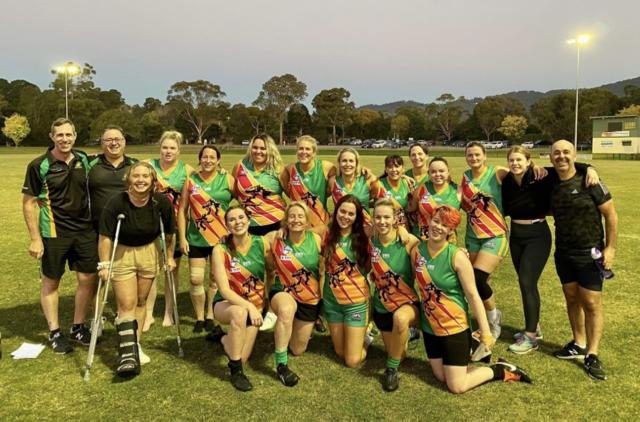 By Mikayla van Loon
Mooroolbark's senior women's football team is preparing to take to the oval for the first time in the EFNL competition in a couple of weeks, an exciting step for both coach and players.
With three practice matches under their belt, the team is looking to grow throughout the season and senior coach Dom Ciancio said confidence in each player's own ability is the aim of their debut.
"I think from an individual perspective, I hope that the girls learn and learn quickly about what they are doing individually and how it impacts and affects the team," he said.
"My philosophy is I give ownership to the girls on the field to make decisions and I think their development will be enhanced with that."
Ciancio said while many of the women have had to learn the basics of football, the passion and willingness to improve has been incredible to watch.
"We had some practice games and I saw some very good signs in the girls. They may not be the most skillful yet but that's what the training is about and they do show a lot of heart and determination so you can build on that."
Recognising that not everyone is at the same level of ability and skill, Ciancio said he is trying to build as much confidence as he can in the team through positive reinforcement but also regular instruction on why something is important when playing football.
"When it comes to training and coaching, what I tend to do is actually stop a lot of the drills and ask the girls if they understand what they're actually doing and why they're doing it because I don't think it's productive if they don't understand why they're doing something."
The biggest thrill as a coach, Ciancio said, is seeing the players grasp a certain play or tactic or movement or even just speaking the language of the game.
Heading into the inaugural season, Ciancio said the focus will be steered away from wins and losses towards building up skill and learning the nuances of the game.
"The quickest way to develop is to learn by making mistakes or being successful and understanding why you were successful at what you do.
"That's what I'm looking for. I'm not looking for wins, I'm not looking for losses, I'm looking for that personal development, both as individuals and as a group. If we maintain that and maintain their positive positivity, regardless of the results we will be better off in the long run."
While the team has enough players to take to the field, Ciancio said there is still room to have a few extra players jump on board, no matter their previous experience.
"It doesn't matter what level or how good or how terrible you think you are, it doesn't really matter what sport you've played before.This is a game that can be taught at any stage at any level.
"We're building numbers, we are still keen to get some more people on board. So another five to 10 [would be great] just simply because it is such a difficult game."
Given the physical intensity of the game and the dangers of tackling and collisions, Ciancio said he has been working closely with the Western Bulldogs tackling coach to help prepare his team for the impact.
Injury minimisation and ensuring tackling is done safely is a big priority for Ciancio as a coach.
"We see a lot of head injuries in footy because people approach the ball in the wrong way. So injury prevention is something that I'm big on.
"Unfortunately, it is a contact sport and there's always a risk of injury, you can't always plan for everything, but it's certainly something that is at the forefront of my mind is making sure that the girls protect themselves."
Coming into this senior coaching role from having previously coached in the junior league at Mooroolbark, Ciancio is ready for the challenge.
"I'm really privileged to be given this opportunity to grow a sport that's really in its infancy, especially at the community level. So I'm really looking forward to that challenge."
Mooroolbark will play Mitcham in the first round of the season on Saturday 23 April.