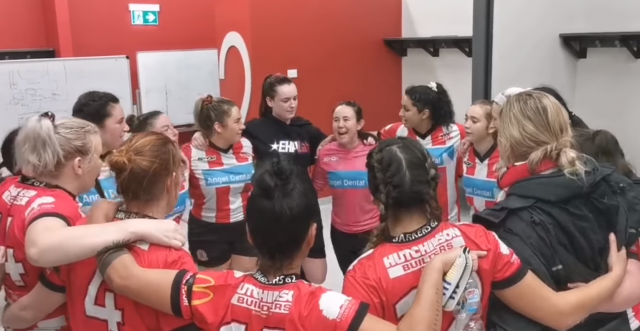 By Peter Stephenson
The Barkerettes soccer team began their season in Women's State 3 East on a chilly Friday night at Mooroolbark's Esther Park. The visitors were Brunswick Zebras, and Phoenix Vinh was making her debut, becoming the 136th Barkerette.
The common theme was that the Brunswick defence (which had leaked a dozen goals in two games against the Barkers last season) had no answer to the pacy Barker forwards. This was proven in the ninth minute when Anjali Lobo outran the defence and finished coolly into the corner of the net for her second goal of the season (following one in the cup game against Moreland) – 1-0 Barkers.
That lead was doubled less than ten minutes later when Kirsten Murray tried her luck from distance on the left. Her low shot should have been taken comfortably by Cecily Walker-Cox in the Zebras goal, but she took her eye off the ball and allowed it to trickle into the net for Murray's first senior goal and 2-0 Barkers.
Just before halftime, the luckless Walker-Cox handled the ball outside the penalty area, earning herself a yellow card and giving Barkers a free kick in a dangerous area. Up stepped Lisa Walsh, who drilled the ball towards goal. The keeper got a touch but could do nothing to prevent the ball going into the net to give Barkers a deserved 3-0 lead at the break.
In the second half Zebras seemed to be more organised and Barkers struggled to break them down. Barkers' striker Amy D'Ortenzio lost three defenders with a single turn, but her shot was stopped by the Zebras keeper, who, to her credit, made some effective, if unorthodox, saves. Eventually a good through ball released the pacy Walsh, who went on to score. However, she had strayed offside at just the wrong moment and the goal was disallowed.
With less than 10 minutes left, Barkers finally added to their tally. The ball ricocheted off the back of a defender into the path of Walsh, who hit an instinctive first-time lob over Walker-Cox into the net for the Barkers' fourth. Full time: Mooroolbark 4-0 Brunswick Zebras.
On last season's form this result was to be expected. However, nothing can be taken for granted in a year which has seen not only players, but also whole clubs, come and go. An encouraging start for the Barkerettes, and next up is a trip to Swinburne on Sunday 1 May.