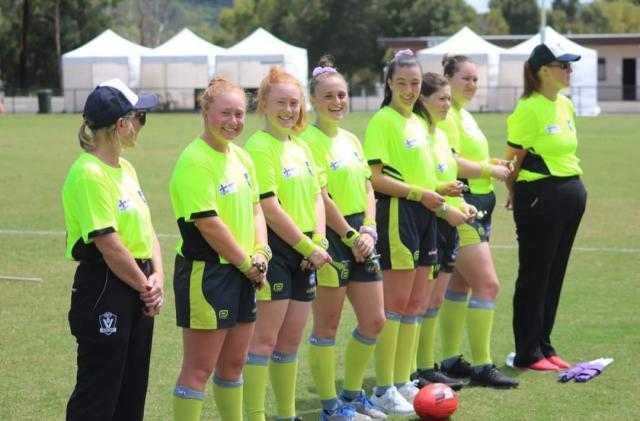 By Callum Ludwig
The Yarra Ranges has not been spared from the umpiring crisis facing footy at the local and professional levels currently, with numbers down and appeals for new recruits to join up or old faces to re-engage with the profession.
The push comes after February AFL's football boss Andrew Dillon told the clubs in February that the game was 6000 umpires short at local level which he believed was largely due to on-field abuse and the reason behind the crackdown on umpire dissent seen in the game this year.
The AFL Outer East and EFNL seasons are within their first month of starting and both leagues are struggling with retaining strong numbers of umpires.
Junior Health and Wellness Mentor for AFL Outer East Sophie Mastaing said she thinks there is a stigma around becoming an umpire, especially for schoolchildren.
"They can be worried about what classmates they've umpired might going to school the next day and if they would have a go at them or lash back at them," she said.
"I think it's also about abuse on the field, which is being dealt with now with the new rules on umpire abuse, which is good, but we just need to get kids in and show them the fun side, and how beneficial it is for when they are playing football as well."
Ms Mastaing has been an umpire, both field and boundary with AFL Outer East for over 6 years, and was appointed to her new role this year. Her role is to look after the next generation of umpires under the age of 18, ensuring they feel comfortable in gameday scenarios and training. She liaises with umpires and their parents on any questions they have, resolving any issues causing discomfort or uncertainty and ensuring junior umpires have someone present at their games to help them feel comfortable.
Ms Mastaing said it is important for umpires to be able to see the beneficial side of umpiring, and the skills they can develop as a result.
"Being an umpire shows you the other side of playing the game, helping you learn the rules and understand what's going on. It helps players adjust how they and their team play to fit the game and understand what umpires look for," she said.
"It's really good for learning respect and leadership skills at a young age because you've got to respect and be responsible for the players, everyone around you and other umpires on the field. You are taught how to lead a team, be a part of a team and make sure everyone feels safe."
Ms Mastaing said having more umpires getting involved, particularly people who also play football, will be important for supporting a continued crackdown on umpire abuse.
"More umpires will create less stigma around umpires because more players will be an umpire and they'll understand what they're doing and what they say," she said.
"Even for spectators being the parent of an umpire will help them understand, they might see their kids go out and get abused and reconsider their behaviour, which will be transferred into senior football as parents play and watch as well."
Umpires nationwide are being encouraged under new ruling to tolerate no dissent from players following any decision, with free kicks, 50m penalties or even yellow cards at a local level the encouraged response. At the AFL level, this has controversially even seen players penalised for hand and arm gestures appearing to question the decision.
Ms Mastaing said less abuse may also encourage more female umpires to join up, who can be the target of gendered abuse.
"It would be good to see more female umpires, we only have a couple this year, girls are worried about specific abuse towards them," she said.
"All of the players have been really respectful towards female umpires, and it'll really help improve women's and girl's football as well because they'll understand more rules and be able to move more fluidly through it."
A former AFL Outer East umpire spoke to Star Mail about their experiences umpiring and why they chose to quit recently.
"I did not enjoy receiving abuse from middle-aged men and women while just trying to do my job. I was not going to continue in a job where I was being criticised for my every decision. The condescending questions I would receive from coaches and even umpire escorts implying that I wasn't aware of the rules of football also led me to want to stop umpiring. This is not to say that all spectators and coaches were disrespectful," they said.
"I did enjoy umpiring and met some great people. Some people really supported me and thought I was great, but eventually the comments made by the majority of people at local footy led me to realise it's not an environment I would like to be a part of."
However, they did say there were a range of skills they learnt and experiences they enjoyed from umpiring.
"Umpiring was a great experience for obtaining a wide range of skills. From umpiring I have learnt the following; decision making skills, punctuality, adaptiveness, communication skills, how to deal with different types of people, time management and organisation. I can use all these skills for any future job or career," they said.
"The positive experiences I had were mainly within the umpiring community. Everyone was really supportive and helped me gain confidence. I am really appreciative of all the leaders who helped me learn and grow as an umpire."
They said the umpiring community was super supportive and want to see more work done with clubs to create a more positive environment on gameday.
"The support in the umpiring community was amazing. I think the work needs to be done through local clubs. Informing clubs on current rules and explaining to parents and coaches that it's not okay to abuse young umpires when they are learning and just trying to do their best. Everyone makes mistakes, the job of being an umpire is not as easy as people think," they said.
"I understand the passion of local footy, having played it myself, but passion does not make it acceptable to abuse umpires. If I weren't criticised for every decision I made and being questioned about my ability to umpire based on my gender then I would definitely stay on as an umpire."