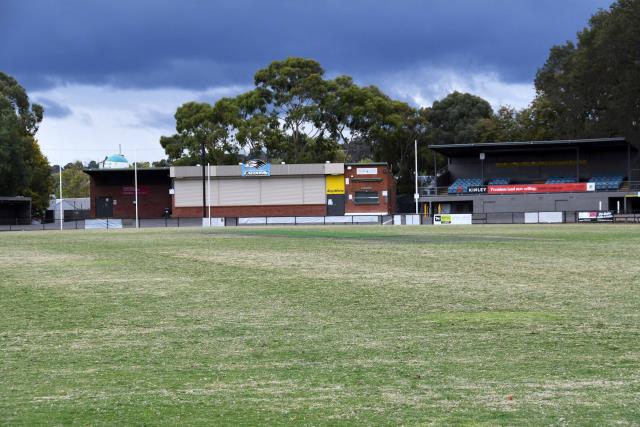 By Mikayla van Loon
Lilydale Recreation Reserve has been promised Federal government funding should Liberal party candidate Aaron Violi be elected at the end of May.
The pledge of $1 million was made on Saturday 30 April at the Lilydale Football Netball Club President's Lunch.
Club president Anthony Simmons said this was a step in the right direction to garner the support of local, state and federal governments to improve the tired and dilapidated facilities.
"It's the first time we've had anyone come out and actually publicly support the redevelopment of the club rooms and actually put some money behind it," he said.
"Obviously, it's dependent on him being elected but at least it's started the conversation and it's now down to me to try to get bipartisan support for it through state and federal representatives and hopefully leverage those conversations with the council to get a plan and timeline."
Mr Violi said as a member of the Lilydale Township Action Group, he has heard the needs for a project like this for Lilydale's future.
"Not only will this bring our community together, it will be a welcome boost for our local economy, increasing female participation by upwards of 62 per cent and creating 33 new local jobs according to Council estimates," he said.
"In total, 220,000 people are expected to use the upgraded facility upon completion, boosting health and wellbeing outcomes in Lilydale and surrounding suburbs."
Both the current club rooms and visitors rooms under the grandstand are all on their last legs, being close to the original structures.
Having put money into some minor extensions to provide showers and toilets divided from the club room, as well as upgrading some fixtures, Mr Simmons said "It's getting to the point now where the building is so old the footings are starting to give way."
"The big storms that came through mid to late last year…we had a large tree fall down on the corner of the club rooms at the rear which damaged the flashing," he said.
"We had some water getting in while it was being repaired. They've done the best they can but the amount of water that fell during those storm periods has eroded the footings of the change rooms at the rear side as well.
"Given that erosion it's only a matter of time before that actually gets a lot worse and it's going to happen fairly quickly."
Not only is it the structural damage but without sufficient change rooms, Mr Simmons said Lilydale Football Club has been unable to start a women's team as desired.
"We've been trying to get a women's team up and running and we've been lucky enough to have a couple of female junior sides running but there's no pathway for them and part of that is because the current change rooms are not female friendly."
While originally Lilydale Football Club had been promised the move to new facilities at the Kinley estate once built, Mr Simmons said as the completion timeline is not for many years, the issue of facilities is becoming more and more urgent.
Because of this commitment, Mr Simmons said the club had been knocked from Yarra Ranges Council's priority list for upgrades but has since been returned as the need becomes more prevalent.
Now Mr Simmons is pushing for a collective community space to be built at the Lilydale Recreation Reserve to provide a central location and events hub for the town.
"There's a need for Lilydale as a whole to have a community centre, a genuine place. There's multiple community groups that need commercial kitchen facilities like Cire who have
cooking classes for people with disability."
With the station and car park redevelopment, as well as access from the Warburton Rail Trail, Mr Simmons said the reserve is in a great location for community access, which could also increase participation in sport.
"We want to drive that genuine interest in getting female participation up at all levels of sport and the disabled access we need to have that improved.
"It's not just about football and cricket. It's about having a genuine community centre in the heart of Lilydale."
Fellow Casey candidates were contacted for a response.