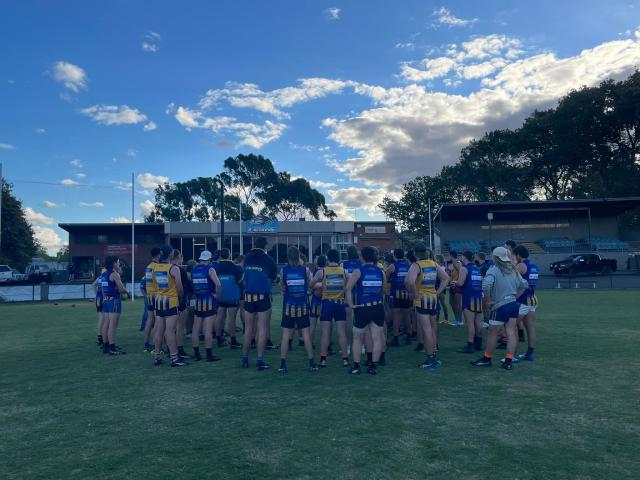 By Mikayla van Loon
Heading into a week off, Lilydale Football Club will be reflecting on the division 1 season so far and the competitiveness that has even surprised senior coach Luke McCormick.
"Realistically, we're in a better position than we thought we would be. We didn't expect to be going so well against so many of the teams, we didn't feel that we were going to be as competitive as we have been," he said.
With a win-loss ratio of three to six, McCormick said many of the games the side has lost have been within the last moments of the match.
"Had we won on the weekend (4 June), we would have been exactly where we would have liked. Unfortunately, we got beaten for the second time with 10 seconds to go," he said.
"We've had a number of other close games with a very close margin, which is a good thing but at the same time, we were pretty disappointed because we haven't been able to hold on and win those games."
Drawing on the 150 year anniversary of the club, McCormick said throughout the year past players have come back to share their experiences, something that has helped players care more about the culture and history of Lilydale Football Club to bring a level of maturity.
The eagerness to improve each week and to get better as a playing group has brought a lot of positivity to the club, particularly with a relatively young side of an average age of 21 and 22.
At some of those critical moments, McCormick said the inexperience of some of the players may have been the difference between winning and losing.
"We've been in every game, we've actually led for a lot of those games. So it's pretty much a young group and the mental strength needed and the discipline needed to stay in the contest for a full four quarters.
"It's teaching the group that they don't need to just go and try and win the ball themselves the whole time…they're so keen and they've got so much energy, they all want to win the footy.
"We've got a team that can win games and be very competitive so that's a good thing to know, it's just having the discipline to stick it out for four quarters."
That competitive edge McCormick said will allow the team to head into the second half of the season with a little bit more confidence in their abilities and belief in each other.
"We probably have more scope to improve even further and other sides will probably be wary of that.
"The few wins we did have, have given them a lot of belief to know that we can go on and win and really these close losses we've had, they've all been realistically our fault so that can be fixed."
Being such a close season, McCormick said the back half of the season could be anyone's and Lilydale hopes to remain amongst the fight for a top four position come finals.
In their first round back after the break against Croydon, McCormick said having played them already and knowing Lilydale could have won in round one, the boys are extremely keen to take them on at home.
"We're now going to the second half knowing that we're super competitive and the other sides will know that too…but they're playing a different Lilydale now."