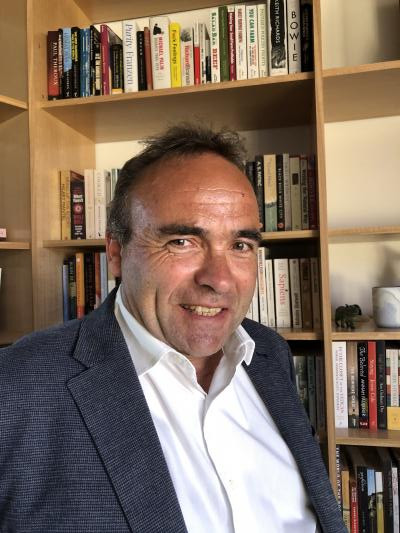 By Mikayla van Loon
Jim McIntyre's authorial career is nothing short of inspiring, drawing on lived experiences to write a 30-years-in-the-making novel.
Now the author is taking time to visit the Mount Evelyn Reading Room on Thursday 22 July to delve into the lives of Vassili, Anna and Helen from Nikolai the Perfect, as well as his own.
Partly set in Mount Evelyn, the influence of the Dandenongs' scenery is just as profound as the Russian uprisings.
"The Dandenongs are an irresistible setting – you could almost say Gothic," Mr McIntyre said.
"Manicured in parts, lush fernery, cascading creeks, majestic eucalypt forests, juxtaposed with surprising touches like tulip farms, German restaurants, Tudor guesthouses and that view of the city from Mount Dandenong Lookout in all weathers."
But Mr McIntyre's love affair with Russia began with its tumultuous history of revolution, as well as a love for authors Tolstoy, Chekhov and Solzhenitsyn et al, which he said grew into a fascination with perestroika and glasnost – the rebuilding and openness of the USSR in the 1980s.
"Like many my age, I was worried about nuclear war. Gorbachev and all he stood for seemed the best chance to avert it," Mr McIntyre said.
"Then, in 1992 on a whim, after spotting an advertisement in The Saturday Age, I booked myself a trip to Russia and Ukraine, started learning the language, made progress and decided to keep going."
While in Moscow in 1993, Mr McIntyre experienced one of the most historic events in Russia, a counter coup of then President Boris Yelstin.
Trapped inside his apartment for five days, Mr McIntyre watched on as demonstrators marched in the streets below, protesting against Yeltsin's economic reforms and armed forces stormed Moscow's White House, taking over the mayor's office and attempting to seize the TV station.
"The 1993 counter-coup I witnessed wasn't so much harrowing as eerie. I hope the corresponding scene in the book captures something of that," Mr McIntyre said.
"I think it also put paid to my youthful political optimism that post-Soviet Russia was on the path to peace and democracy."
Not quite done with Russia, in 1998 Mr McIntyre went back as an education agent for Swinburne University and spent four years living and working in Moscow.
Although much of his experiences in Russia may have influenced his novel, Mr McIntyre said his whole life has somehow had an impact on his writing of Nikolai the Perfect.
"Nikolai the Perfect feels like ten books bundled into one – drawing on all the major experiences in my life, preoccupations, observations," he said.
"Although, as writers will, I also ransacked what I knew, or imagined, of other peoples' lives. But even those parts were ultimately autobiographical, stemming from childhood loss, in ways I denied to myself until very late in the process."
After taking a break from writing, Mr McIntyre has just recently gone back to writing his next novel about Nikolai Miklukho-Maklay.
Mount Evelyn Reading Room coordinator Liz du Toit said they are excited to hear Mr McIntyre's experiences first hand.
"We love hosting author's and we are particularly excited to be talking about a novel with a direct link to Mt Evelyn," Ms du Toit said.
"Jim's journey is very interesting and it will be wonderful to hear about his perseverance in getting his novel published."
The Reading Room event is free but bookings are essential https://www.mtevelynch.com.au/course-detail.cfm?coursecode=JMI21