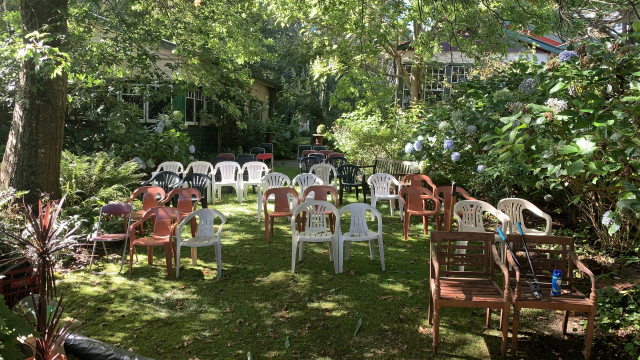 By Peter Kemp
Saturday 19 March one of Melbourne's best autumn days particularly at Sassafras where at The Knowe an afternoon of music and song dating from the Victorian and Edwardian era was had.
On arrival one could come early and have a picnic lunch with bubbly at the bar. Many people took advantage of such a pleasant day and enjoyed the picnic.
The weather was perfect for such an outdoor setting with the audience sitting under a 100-year-old oak tree.
The singers for 'Come into the Garden Maud' were dressed in the style suiting the occasion. The men in suits and the ladies in all white dresses down to the feet. There were three men and four ladies. One man could not make it so there was a fill in bringing the men to four for some songs but the stand in did not take the applause at the end.
There were 28 songs, beautifully rendered by the company with some amusing scenes, particularly the number 'His Lordship Winked at the Counsel'. A very amusing number with the judge in full regalia and typically G & S doing a little dance number during the performance.
Opening the second half was 'Soldiers of the Queen' which became a theme song for the Boer War. Another amusing song was 'I Want to Sing in Opera'. A young lady came out with a bonnet and a bucket in her hand singing the title song. A delightful rendition and the acting was highly amusing.
Another fun song was 'There are Fairies in the Bottom of My Garden' and as the singer moved into the song two fairies appeared.
Both had the obligatory wings and long pink dresses, but one was bearded, and the other was another male. Quite amusing and added to the afternoon.
A wonderful afternoon of entertainment bringing back many memories of times past with good voices and wonderful presentations.