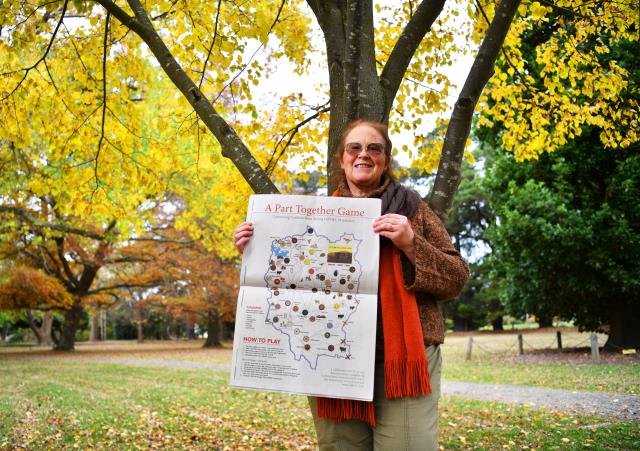 By Parker McKenzie
After the success of two board games published within other newspapers, Star Mail readers will have the opportunity to contribute to a Yarra Ranges-based board game before its launch.
Jenni Ivins has designed two board games for Star News Group — the owner of this publication — and is seeking photos for use in her third table-top game.
Ms Ivins said the board game will feature people's photos of their favourite locations throughout the Yarra Ranges.
"Things that people like about the Shire that make it special, hidden secrets, and things that people don't know about," she said.
"Then they will be put into on the back of what are called GO-TO cards, they're going to measure four centimetres by six centimetres."
The board game will be published in the Star Mail newspapers and online in PDF format, with a board, the GO-TO cards and a rule set.
Ms Ivins said she has received positive feedback from the other two games.
"Many people told me that they learned a lot about the Shire, particularly which towns are in the Shire. That one seems to be a big one across both areas where I've done it before," she said.
"People have been learning about places they can take their families to or just things to explore."
A Part Together, Ms Ivins boardgame about Cardinia Shire which was published in the Pakenham Gazette, won the Best Community Campaign Award at the 2021 Country Press Awards.
Ms Ivins said she hopes people can reach out to those in hard-to-reach places to receive the best images from all around the Yarra Ranges.
"We want is people from all demographics that we want all people, young people, all nationalities, cultures, we want to capture as many voices as possible in this project so that is the game means a lot to everybody." she said.
She said people can also include quirkily stories about the locations, which will be included on the GO-TO cards.
"Connecting communities through Facebook conversations are about life in the shire, what is valued or unique; talking about our histories, treasures and activities we value, helping people to get to know their area better," Ms Ivins said.
"This is happening in the Connecting Communities group and in the many township groups, in which I have been welcomed so I can ask questions and prompt deeper conversations."
The board game will be published in the Star Mail newspapers in late May or early April.
Anyone interested in participating can join the Connecting Communities Yarra Ranges Shire Facebook page or email the photos directly to Jenni@MindDrawing.net.