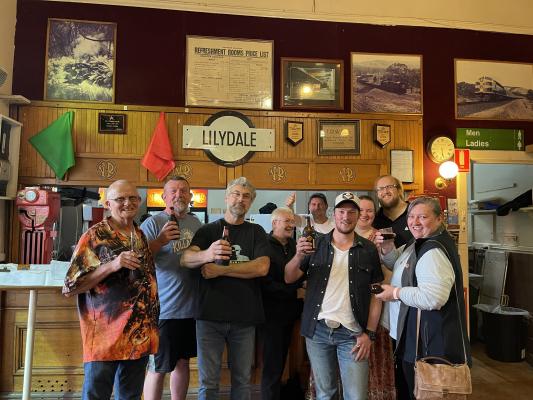 By Taylah Eastwell
Walking along the platforms at Lilydale Station, most train-goers would never even think that behind one of the historical blue doors lies a fair dinkum, beer-serving pub.
One of the towns hidden gems, the pub at the station is currently under threat, with officials from VicTrack yet to made a decision over the future of the bar and refreshment room.
Currently the only station on the network with a licensed venue, the Lilydale refreshment room has a deep-rooted history that travels back as far as 1914, when light refreshments were first served in the current building. Counter meals were also served in 1917, before the Victorian Railways Institute took over management.
The bar has survived the great depression, with only light refreshments served between 1932 and 1939, and more recently has endured through Covid-19 lockdowns.
The room has been occupied by the Lilydale Victorian Railways Institute since 1979, opening its doors every Friday from 3pm to 9pm to a number of regular bar-goers.
Lilydale Railway Institute member John Smith, who runs the bar alongside Darren Gloury, said he walked into the bar many years ago when getting a train from Lilydale and his involvement escalated from there.
"It's become a Friday outlet. All our regulars come in and say 'no, we can't close it down'. Even the younger people come in and interact with people my age, it's got an atmosphere to the place and even they say, 'we can't close it'," Mr Smith said.
Mr Smith said there is without a doubt someone that comes into the bar each week absolutely gobsmacked that it exists.
"Religiously, every week, someone gets off a train and asks how long its been here for, and they'll have lived in Lilydale their whole life. They are surprised it is here," he said.
Mr Smith said in the early days, the refreshment room was used by people who would get electric trains to Lilydale, stop and have their tea, coffee and biscuits before getting the steam train out to Healesville or Warburton.
"In those days, if you said to someone in Melbourne that you're going to Warby or Healesville, they'd say 'you're going that far?!'. That's why people stopped in half way," he said.
With PSO's on the platforms, Mr Smith said the bar never attracts any trouble, but he and Darren could write a book on the "characters" they've met over the years.
"It's all about the characters you meet. Because of the location we are in and on a railway station, you always get a variety of people," he said.
"We now have a regular group of people who come in every Friday night, the tradies come down after work, have a few drinks, go away happily and do the same thing the following week. You feel safe," he said.
A VicTrack spokesperson said "the Victorian Railways Institute will be temporarily unable to occupy the Lilydale Station building while works are carried out to remove the dangerous and congested Maroondah Highway level crossing".
The existing station building, including the bar, is set to be closed later this year for at least 10 months to allow for peak construction on the level crossing removal project and repairs to the existing building, such as drainage, stumping and roof maintenance.
It was announced by Yarra Ranges Council members at a Lilydale Township Action Group meeting on Thursday 29 April that the original Lilydale Station building will be kept and repaired, with council investigating options to lease the building from VicTrack and then sub-lease to community groups. The Star Mail believes community groups will soon be able to submit expressions of interest for possible tenancy at the site.
"While we're yet to make any decisions about a future tenancy in the building, we are looking at opportunities to open up the heritage-listed building to benefit the local community and visitors to Lilydale," the VicTrack spokesperson said.
Mr Smith said the Lilydale VRI will continue efforts to try and keep the bar going.
"It's going to be a battle unfortunately. Without being negative, I really don't know what's going to happen, it's sad," he said.