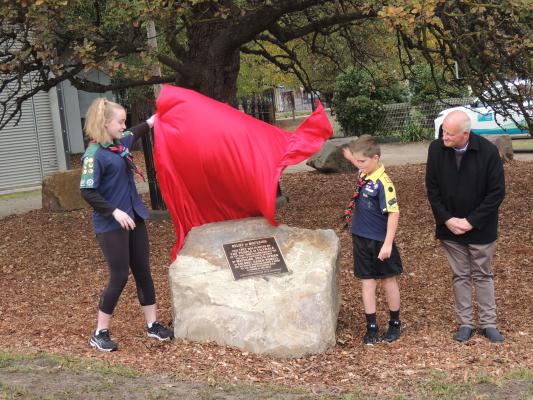 By Mikayla van Loon
The Mafeking Tree located in Melba Park behind the Yarra Ranges Regional Museum has been standing tall for over 120 years.
On Saturday 8 May members of the community, councillors and the 1st Croydon Hills Scout Group gathered under the autumnal foliage of the Mafeking Tree to unveil a new plaque.
The tree was planted on June 13, 1900 after the successful defence of Mafeking in South Africa by allied colonel Robert Baden-Powell and his gallant troops.
Defence of Mafeking lasted 209 days during a siege by the Boers.
In memory of the Mafeking fight, a plaque hung on the metal picket fence surrounding the Mafeking Tree and was believed to be over 100 years old.
Unfortunately the original plaque was stolen and had never been replaced.
Until the 1st Croydon Hills Scout Group heard of the theft and because of Lord Baden-Powell's connection to Mafeking and as the founder of the Scout movement, they decided to raise funds to replace the plaque.
On Foundation Day this year, the scout group hiked a short way to Melba Park and raised $337.30 towards the costs of a new plaque.
Yarra Ranges councillor Tim Heenan said it was a wonderful display of community spirit and a great result for Lilydale.
"I want to congratulate and thank the 1st Croydon Hills Scout Group for all your work in helping re-establish this very important part of our history," he said.
"Your contribution is part of the ongoing history of the area and our community is richer for having people like yourselves."
Training assistant Cub Scout leader Ben Gillson said he hopes the lessons of the Scout movement teaches young people to stand up for what is right if they are ever faced with the peer pressure of something like stealing a plaque.
He also thanked his team of scouts who took part in the fundraising and agreed with Lilydale Historical Society president Sue Thompson in saying that these young people are now the custodians of history and they must continue to honour its importance.
The plaque now stands in stone for future generations to remember the Mafeking defence.