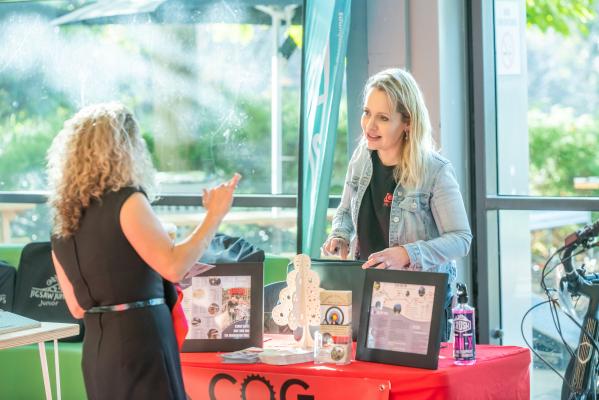 By Mikayla van Loon
Businesses from all over the Yarra Valley came together on Friday 14 May to show each other and the community what they have to offer.
Yarra Valley Business hosted its first business expo with not only stallholders but live music, workshops, presentations and giveaways to keep people entertained throughout the night.
The theme of the expo was getting back to business after Covid-19 and businesses from health and wellbeing to finance and education were all present to showcase their strengths.
President of the committee Jason Olszewski said the point of Yarra Valley Business is for businesses to not be in competition with one another but rather working together to thrive.
"Today's more about linking these businesses together again. So it's great that we can get people doing workshops and speeches and saying nice things but out the back here, this is what it's all about, getting people together," Mr Olszewski said.
And that was the overwhelming feeling in the room, that business owners just wanted to meet and connect with other business owners after being closed off last year.
Cog Bikes' Danielle Bortignon said the reason she decided to hold a stall was to do something really positive.
"After last year I loved the whole back to business and that's what I feel like this is, what it's all about and that's what I was here for, to be around people who have got through last year and just reconnect," she said.
"Meeting other local businesses around the area that may not know us and we are about locals supporting locals, so if we can build on those connections as well and just people getting to know what we can do."
Lilydale Skate Centre owner Ramy said events like the business expo are a great way to pick up ideas and network with other members of the community.
"At the end of the day it's all about community, you're living here, you put the money back here, you take the money from here and it's a cycle. It's all about community in a way, so it's good to meet the people behind the business," he said.
He also said after struggling last year financially, events like the business expo are important for business owners to just have fun.
For small businesses like Magnolia Apothecary, owner Jan Caton said the Yarra Valley Business Expo was important for people to see what she can do.
Having attended a few expos in the past, Ms Caton said it was the most successful she has been at one.
"My aim today was to sign people up for the workshop and also to increase my email list so I've done both of those things, so I'm pretty happy," Ms Caton said.