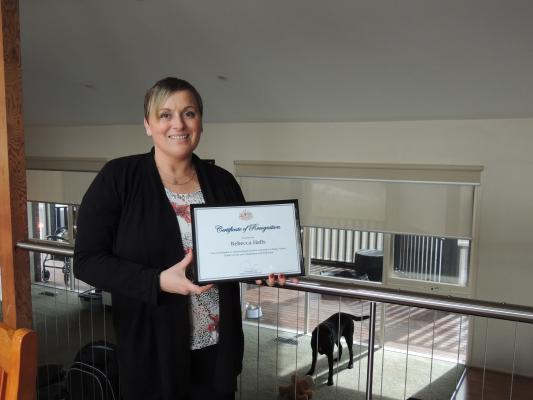 By Mikayla van Loon
For ten years Bec Halls has been putting smiles on peoples faces with the annual Christmas raffle at Yarra Ranges Special Developmental School in Mount Evelyn.
And she has finally been recognised for her work by receiving a certificate of recognition from federal MP Tony Smith for all her volunteering and hard work.
Each year Ms Halls goes around to businesses to get donations of vouchers, money and gifts to put towards the hampers.
"I go around collecting donations on foot and last year I actually put it on the Yarra Valley notice board and oh my god I got the biggest response," Ms Halls said.
"It was just good to see how much kindness through hard times there was."
When she first started organising the raffle, Ms Halls said it was only small and she thought "I can do better than that."
It has now jumped leaps and bounds with businesses regularly getting on board and some donating amazing prizes.
But even for the small businesses or the ones just donating for the first time, Ms Halls said she doesn't expect much from people.
"I say to people 'I don't care what it is', it doesn't have to be dear, even if it is a tiny little, maybe five dollars cash that I can put towards buying stuff for the raffle, I'm grateful," she said.
"I've been blown away by the support from the community each year, it's crazy."
To the businesses who have offered support from Lilydale to Woori Yallock to Healesville, she said "You're amazing. Your kindness has brought so much happiness to people and I'm grateful every single year that you continue supporting Yarra Ranges Special Developmental School."
Ms Halls said she is privileged every year to organise the fundraiser and support the incredible school her son goes to.
"The school community, the parents make the night a lot more fun and more families get involved. I just like seeing people happy."
"It's nice and I'm really happy getting recognised but I don't do it for that."
She said seeing people happy is what drives her, as well as seeing a community form each year around Christmas time.
"And I'm giving [the fundraiser] to the school and the families to, I guess, make it a bit more mainstream, not that that matters but to give it more of a school community," she said.
Ms Halls was diagnosed with MS at the age of 18, she is now 40 years old but doesn't let anything hold her back from living a positive life or organising the raffle each year.
"I just do it, I've done it through an MS attack. It just makes me happy," she said.
Not only has Ms Halls celebrated ten years organising the raffle, she has also just been recognised for three years volunteering with MS Connect.
"I always reach out to people with MS because when I got diagnosed I was very alone, I was 18 and when I used to go to meetings there were only 40 year olds and that's my age now. So I don't like to see anyone feel alone," Ms Halls said.
"If there is anyone that needs help, reach out because I don't mind listening.
"I've had everything, up, down, ignored, at the end of the day I've still got MS."
Between her appointments and son's appointments, doing more volunteering work is not something she can manage as much as she would like to.
But as a Wurundjeri woman, Ms Halls stays connected to her Wurundjeri tribe in Healesville and tries to support them in any way she can.
The next best thing Ms Halls said she and everyone else can do is smile.
"Just smile, there's always something to smile about, everyday and even when there's really bad times, there's always a bit of light."