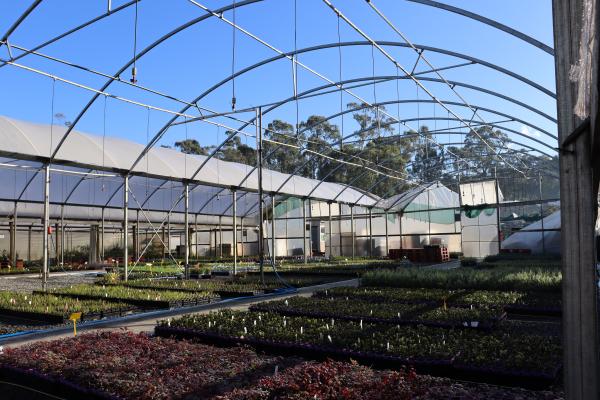 By Mikayla van Loon
Yarra View Nursery supports so many in the local community and now they are asking for a little bit of help themselves after last month's wild storms.
The wind and rain meant many of the nursery's crop houses lost roofs and a fallen tree has damaged three structures.
Not only has it been the physical damage but Knoxbrooke's executive general manager of the social enterprise, Scott Buckland, said it has been the loss of trade, production and stock, as well as a number of compromised trees that have added up to a big cost.
Infrastructure damage and the clean up is estimated to total $150,000, while the cost of lost trade, production and stock is estimated at $50,000.
"As a not for profit and a charity providing employment opportunities to people with disability, we don't have a lot of cash in the bank to buffer these sorts of things and it is an unusual situation," Mr Buckland said.
That is why Yarra View Nursery is asking for help, something they have never really done before, to bridge the gap between what insurance will cover and the cost of recovery.
"It's very, very rare that we have done something like this. A good amount of the infrastructure damage will be covered," Mr Buckland said.
"We're not sure about all the clean up costs, we're still waiting on insurance but we don't think that will be fully covered and certainly the stock loss and production loss and loss of trade, it's not significant enough to be claimed."
Mr Buckland is hoping the nursery can fundraise $50,000 to put towards expenses not covered by insurance.
And while the damage may be done to the structures, the risk of losing plants to frost is the next challenge over the coming weeks.
"Certainly on those tunnels where the stock is completely exposed, we're getting frosty mornings now, so if we get multiple frosty mornings there's potential for some fairly significant stock damage."
Another major challenge is the loss of production days and facilities, which may mean some of the plant supply contracts Yarra View Nursery has with the rail projects and freeway projects may be delayed.
"I'm hoping it doesn't impact on the ability to deliver on those contracts but if we don't get these repairs done fairly soon then there will certainly be some impact on our ability to supply in the future."
Although unfortunate, Mr Buckland said it could have been a lot worse had the storms happened during the day.
"We were lucky, at the end of the day, given what's been happening up in the mountains."
Nonetheless, Mr Buckland said many of his staff were shaken from being unable to get to work after the storms because of fallen trees.
"That's certainly created a lot of anxiety with our staff and then obviously coming to work and seeing the significant damage here," Mr Buckland said.
"So we've been helping people through that. We've got an amazing support team and a support focus in our business.
"We've been helping out wherever we can to try and manage and help people through the situation but it's certainly impacted our staff but we may not see the full effect of that for months yet."
Even though Mr Buckland said storms have happened previously and damage may have occurred, it's never been to the extent of what happened in early June.
"It's something we've never seen before, it's certainly a freak event but we're resilient, we've been around a long time and it's just another hurdle we need to get over and hopefully we can get over it fairly quickly and get back on track and keep things going."
To help Yarra View Nursery and the other Knoxbrooke sites get back on their feet, donate here https://knoxbrooke-inc.giveeasy.org/the-great-storm-recovery-appeal