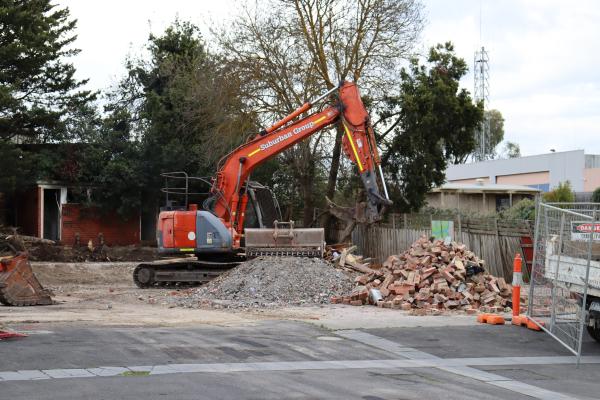 By Mikayla van Loon
A part of Lilydale's history was demolished last week as machinery moved in to bulldoze the former CFA building on Main Street.
In May, CFA crews were called to a fire at the building, which was deemed suspicious and caused internal damage to the structure.
Yarra Ranges Council had been in discussions with the owner of the property to either secure the building by removing damaged sections or by demolishing it entirely.
The response to demolish the building came as a shock to many community members, many of whom said they wanted to drive past to be sure it was true.
Having been abandoned a number of years ago, the old fire station had been left to ruin causing outrage.
Lilydale and District Historical Society president Sue Thompson said this was an example of demolition by neglect.
"Leave a building empty, don't secure it and the result is inevitable – vandalism, squatters and fires," she said.
"This was Main Street's only remaining example of a 1930s building and the council's own Heritage Architect back in 2019 recommended its listing on the council's heritage overlay but nothing happened."
Ms Thompson has been advocating for the protection of Lilydale's historic buildings and said the council can no longer wait for the Lilydale Place Plan and Structure Plan for these buildings to be protected.
"At the moment the council is referring constantly to the Lilydale Place Plan and the Draft Structure Plan claiming the heritage elements will be included in and addressed in the final plan to be released later this year," she said.
"But putting these buildings on the council's heritage overlay now is not dependent on the Lilydale Structure Plan. Council can act now but doesn't seem to want to do anything. Waiting for the Structure Plan could be too late for our other buildings."
A post in the I Grew up in Lilydale Facebook group received over 130 comments of people mostly in shock of its demolition, angered by the loss of history and reminiscing about family members who once worked out of the building.
"The building was not just special architecturally but it was special socially and economically," Ms Thompson said.
"It was a meeting place for the many townspeople who were volunteers in the brigade either as fire fighters or partners, both of whom worked tirelessly raising money for equipment so they could keep our town and businesses safe."