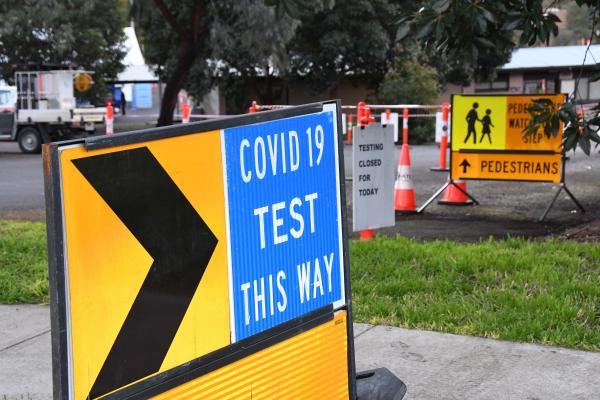 By Mikayla Van Loon
Residents living on and near Wyuna Walk in Mooroolbark are outraged after not being consulted about a new drive through Covid-19 testing clinic that was set up in the middle of a housing estate.
A letter informing residents of a 'proposed' Covid testing site was received two days after construction had already started on Monday 5 July, with the opening date of Friday 9 July.
Wyuna Walk resident Tom McCausland said only receiving notification about the site after construction had already started was quite shocking.
"The fact that it said 'proposed' but it was already commencing, it was like a slap in the face," Mr McCausland said.
Another resident whose back fence is only metres away from the testing clinic, Cameron Hunter said he was shocked and angered by the decision to put a testing clinic so close to people's houses.
"The fact that it just blindsided us and came out of nowhere and then just the general lack of consultation or thought for the community doesn't seem right," Mr Hunter said.
"It seems like an easy way out for somebody, the line 'ask for forgiveness rather than permission' rings quite true with this here, that someone has made a call without consulting the people around them."
Mr McCausland said there are a number of issues relating to the site but one of the major ones is the potential for increased traffic in a residential area, which is already surrounded by congested main roads.
Wyuna Walk has a number of access points coming in from main roads. The most direct route is by entering off Manchester Road, which since the railway construction started, can get quite congested during peak times.
The other two main roads are Mooroolbark Road and Hull Road. Roadworks on Hull Road due to the building of the Kinley estate have reduced it to one lane with traffic control operators and the Mooroolbark Road/Hull Road bridge is notorious for queues of traffic during peak hours.
"If there was an outbreak in this area in the Yarra Ranges, this whole neighbourhood here would come to a complete standstill and you would not be able to get in or out," Mr McCausland said.
Having contacted Yarra Ranges Council, Mr McCausland said it appears as though a traffic management plan wasn't completed prior to the site being set up.
"It really does sort of sound like they just put it there and haven't thought about it properly," he said.
"I'm not anti testing, I think we do need testing sites but where [it is], it's in a terrible location which is going to cause a lot of havoc."
Not only are residents concerned about the risk of increased traffic in the area but the risk of aerosol transmission of the virus.
"The stories that were on the news about the cases that were contracted at AAMI Park and the MCG, there are people testing positive now who weren't even sitting near them, so that says to me aerosol," Mr McCausland said.
"And the fact that no one, with a fence line that borders onto it, is vaccinated either, so if you're going to put a testing site in a residential area why don't you look at the health risks of what could potentially happen."
Mr Hunter agreed and said he doesn't believe the demographic of residents has been taken into account prior to the clinic being established in such close proximity to houses, as many of the residents are elderly.
"When we've been told the whole airborne exposure is a thing and that's happening in different facilities where it was transmitted via aerosol, it doesn't make us feel awfully safe when there's a whole lot of better places that it could have been positioned," Mr Hunter said.
Two of Mr McCausland's neighbours are in their 80s and the wife has just been through quite a severe illness.
"It's gotten to the point where she has so much anxiety, she won't leave the house, won't open the windows to get fresh air and her husband won't mow the lawn and won't do the gardening and this is someone who does his gardening very well."
Aside from the fears of the transmission of Covid-19, privacy for both residents and those being tested is limited, with Mr McCausland saying he could hear from his house the details being asked of those being tested.
Mr Hunter also said the demand at the site comes in peaks and there could sometimes be 50 cars idling over his back fence at any given time.
"It's just the general noise all the time. It's like a low level hum over the back fence, non stop. And they have got the floodlights on every day and every night which don't turn off until about 7pm, so it just distracts from the neighbourhood," he said.
The site, which was once used as the regional facility for Lilydale and Yarra Valley Netball Association, has been left unused since 2015 and residents have since been using the space for exercise and as a recreation reserve.
"The big concern is that with everyone in lockdown at the moment, if they don't have that outlet to get out of their house and exercise safely and feel comfortable in their own backyard essentially, if we have more people staying inside, dwelling on things and not being able to move their bodies and get some endorphins pumping, I feel like that would put some pressure on our health system in other places too," Mr Hunter said.
Likewise children have taken to playing in the streets and an increased traffic flow could pose a risk to their safety.
About a year ago residents received a letter box drop with a survey of what they would like to see done with the land, with options like a skate park, memorial garden and exercise track being listed.
Nowhere on that list suggested a Covid-19 testing site would be set up in the future.
Mr McCausland understands that the council has provisions for the clinic to remain at Wyuna Walk for six months as a replacement to the Boronia station site which was closed 9 July.
"If it was something that was just while we got out of this fifth wave or whatever we want to call it then you can understand that but if it's going to be semi-permanent, then that's very disappointing," Mr Hunter said.
Residents are not opposed to a testing clinic being established in the Yarra Ranges to handle a potential future outbreak but are rather concerned about decisions behind using a site in a residential zone.