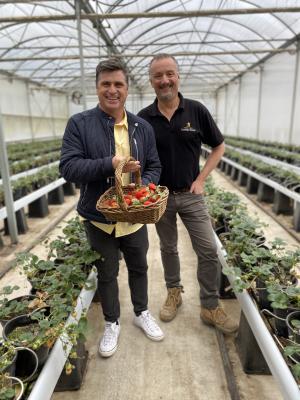 By Jed Lanyon
The Yarra Valley had a special visitor recently as Hawthorn legend Shane Crawford journeyed to the region for the latest episode of Postcards.
The Brownlow Medal winner made a few stops along the way to the Valley, visiting The Sebel Melbourne in Ringwood, before continuing down the Maroondah Highway to pick strawberries at Yarra Valley Gateway Estate. He capped off a day-trip by enjoying a nice drop at Fergusson Winery and Restaurant in Yarra Glen.
Speaking to Star Mail, Mr Crawford said he is a regular visitor to the Valley and that it makes for the perfect escape from city life.
"I enjoy it anytime I get to work out that way, I'm always discovering new parts. It's beautiful and connected to the city in that it's very easy for people to get out there and enjoy all the rolling hills and find all the hidden treasures as you go along.
"I went to Fergusson Winery, which has been there for a long, long time and it's just a nice little winery on about 10 acres and was nice to enjoy. Even in the middle of winter, I still enjoy going to the wineries and checking them out.
"One thing I'd like to do more is just go exploring. To just get in the car and go wherever it takes me because there's so much to discover. I know a lot of people go out there to the wineries to have a look around, but I think if you just get in the car and go in whichever direction you feel, you won't be disappointed.
"There's something for everyone of all ages from young kids to a couple having a romantic weekend away. It's like a hamburger with the lot, I suppose it just depends on which direction you go and what you're looking for."
'Crawf' enjoyed the opportunity to pick a basket full of strawberries at Yarra Valley Gateway Estate in Coldstream.
"I didn't know there were places you could pick strawberries all year round because it's undercover there at the Yarra Valley Gateway Estate," he said. "They have some beautiful produce and some really nice people there. It's something cool to do for the whole family.
"They have these unbelievable sausage rolls. You can go along and pick your strawberries and then buy these beautiful chocolate dipping sauces.
"They have bees in the shop and you can see they're hard at work making honey and it's just the things like that we can sometimes take for granted to be able to go to a shop where there's lots of homegrown food and lots of heart and soul put into the place."
Yarra Valley Gateway Estate co-owner Brett Spurling was happy to welcome the AFL star to his business to shoot the Postcards episode, which aired on Sunday 25 July 5.30pm on Channel 9.
"Shane's an absolute gentleman, he's just like you see on TV and is friendly and engaging," he said. "It's always good for recognition and people tend to recognise you more.
"The timing of it is fantastic, it's been a fairly tough time for a lot of businesses, ours included. So having Postcards come out is amazing to have that national coverage.
"It's great to see these shows come out to the Yarra Valley, it provides recognition to the whole Valley and the exposure brings people out, not just to us, but the whole Yarra Valley. It's not very often someone comes out to visit just one place."
The Coldstream producers can bank on seeing another returning customer.
"I'll be stopping in on the way there or back everytime I hit the road, whether it's to grab some food for home or have lunch. It's a good little spot," Mr Crawford said.
And with Victorians going in and out of lockdown regularly, Mr Crawford stressed the importance of supporting Victorian businesses when the opportunity to unwind and have a weekend away presents itself again.
"We're so lucky in Victoria that we can drive in any direction from the city and you hit these nuggets of gold everywhere you go. And the Yarra Valley is right up there with the very best, not only in Victoria, but across the world and that's why Postcards continually goes in that direction because it keeps giving us amazing content.
"Everyone's been heavily affected by the lockdown, the restaurants shut down and the wineries as well as all the local little shops that live off of tourism, especially on weekends. It's sad, and that's why it's great that Postcards is up and going to give a bit of a cut out for the businesses and a bit of love.
"I'm sure that everyone's chirping at the bit to get going and we need to give ideas for people to go somewhere and some of the best places are in your backyard, where you don't have to get your passport or jump borders."