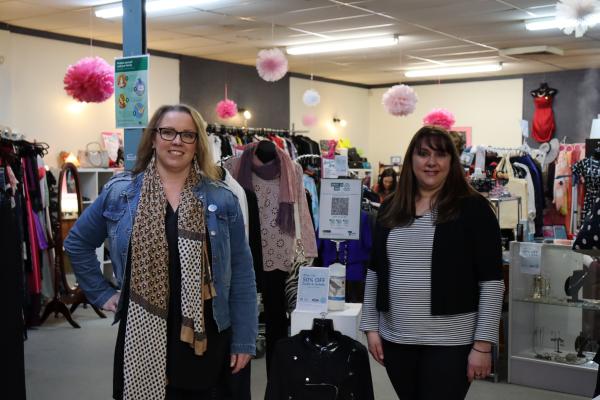 By Mikayla van Loon
Making a good first impression and feeling good about yourself while doing it can be the key to success.
That's why Cire Services' First Impressions Clothing Exchange (FICE) supports women looking to get into or get back into the workforce, as well as offering high quality second hand clothing items for purchase.
Operating as a not-for-profit small business at The Terrace Shopping Centre in Mooroolbark, FICE's motto is 'for women, by women'.
Women from all backgrounds, whether on a study pathway to a career or long term unemployed, are supported, with the program being tailored to their individual needs.
FICE coordinator Renee Cooke said women come into the store one to two days a week to work in the retail setting, unpacking donations, learning customer service skills and running the shop.
"We help them gain the confidence, not necessarily to get back into retail, but just to develop their overall employability skills, from a customer service point of view, problem solving, all of those sort of eight essential employability skills," Ms Cooke said.
Although there was an influx in donations over the last year with people cleaning out wardrobes, Ms Cooke said there has sadly also been an increase in unemployed women.
"There's definitely been an increase of unemployment, especially in women compared to men in our own area in the Yarra Valley and that's through stats that we've obtained through employment agencies as well."
Unemployment in the Yarra Ranges as at March this year was sitting at 6.3 per cent, leaving 5250 people unemployed, the highest recorded rate in 10 years, according to Australian Bureau of Statistics labour force data.
In nearly every age bracket for 2019-2020, on average 10 per cent more women were unemployed compared to men in Australia.
Female unemployment in Victoria in 2020 reached the highest on record at 119,000, with many of the industries hardest hit by Covid-19 being predominantly women based.
FICE gives women a place to turn to when they don't know where else to go, whether it be to find a new outfit or to volunteer in the program.
"We've been brought to tears many times by many women's stories just coming in here that, they're at rock bottom, or they just don't know where to go or what to do or they don't even know what to wear. They're so deflated, I guess, about their own sense of self," Ms Cooke said.
Perhaps unlike a normal retail store, staff and volunteers become a part of the community, with road shows, fashion parades, makeup classes and pamper days all part of the experience, which has been facilitated by The Terrace.
Ms Cooke said that then opens people up to different avenues depending on their background and preferences, as well as building social connections between women.
"There's nothing like this in the Yarra Valley that accommodates women on various platforms. So whether that's being able to dress appropriately on a budget, or whether that's to be able to be mentored on a more personal level," Ms Cooke said.
"So that's really important, because a lot of women have come from long term, unemployability or some, maybe there's been some personal mental health, or just very personal reasons that they haven't been working.
"And this is the first point where they can just build their confidence up in a safe way, and feel nurtured and understood and know that they're not alone. I think that's the message that comes from a lot of women who say, when they come here, I'm not alone and I'm not the only one that's feeling this way."
As a store that is open to all women for onsite resume writing, cover letter writing and job application help, as well as bra fittings, Ms Cooke said women are more than welcome to just wander in to have a chat or get advice.
Ms Cooke said she also finds a number of women who come to the store are environmentally conscious and choose First Impressions because of the quality and affordability of the clothing.
What started as a pilot project in 2019 has now expanded and outgrown the current shop in The Terrace but Ms Cooke said the centre has been integral to establishing the program.
"It's been a wonderful stepping stone starting here. We've been so supported by The Terrace. It's been fantastic."
Hoping to gain sponsorship from individuals or businesses, Ms Cooke said FICE is looking towards bigger and better things, so that they can offer more assistance and training to women in the future.