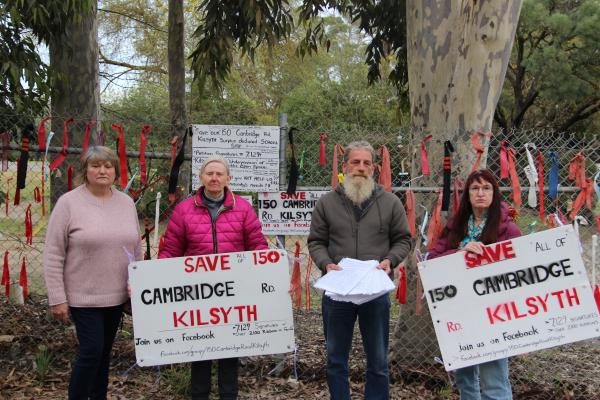 By Taylah Eastwell
The future of an open parcel of land in Kilsyth will soon be decided, with the state government having reportedly offered Yarra Ranges Council a discounted price to purchase the land for community use.
Thousands of local residents and business owners have been fighting to save the land, located at 150 Cambridge Road, having used it as an open community space to walk their dogs, exercise and for children to play ever since Pembroke High School's Kilsyth campus was demolished in 2013.
Community pressure resulted in council considering its options to purchase the land or a portion of the land from the state government to allow for continued community use after the state government originally planned to sell the site to property developers.
Now, in a letter seen by the Star Mail, council have received a price for the land from the Department of Treasury and Finance at 50 per cent below the current market value, known as a 'restricted community use value'.
When approached about the price being received, Yarra Ranges Council provided a response from Director of Environment and Infrastructure, Mark Varmalis stating council is "continuing to work cooperatively with the State Government on the valuation and purchase process for the potential acquisition of land at 150 Cambridge Road, Kilsyth".
The Star Mail understands Yarra Ranges Council is currently in a 20-year lease with the Department of Education to allow community use of a sporting oval at the rear of the ex-school site at Elizabeth Bridge reserve.
Kilsyth local and principal petitioner John Phillips hopes council will recognise the need for more open land in the growing suburb, with a petition he created receiving 7,129 signatures from locals living across the nine council wards in the Yarra Ranges municipality.
"It has been 42 years since the first piece of land for the Elizabeth Bridge Reserve was purchased for parkland and since then, our population has near doubled yet there has been little to no additional provision of parkland," Mr Phillips said.
The need for open community parkland is well recognised by authorities, with a 2019 Yarra Ranges Council document in relation to a review of council's Recreation and Open Space Strategy (ROSS) stating that "a draft analysis of current open space provision in Yarra Ranges has identified that Kilsyth has a very low provision of open space, at 3.5 hectares per 1000 residents".
This is less than the standard provision of open space which sits at 4.1 hectares per 1000 residents.
Mr Phillips said Member for Monbulk, James Merlino also recognised the need for more community space in Kilsyth when announcing a $1.4 million upgrade to the neighbouring sporting oval on 22 January last year, noting the growing number of children in the area.
According to Mr Phillips, all it takes is a quick glimpse of an aerial map of Kilsyth and Mooroolbark to see the lack of open community space.
"What we are trying to save is the northern parcel of 150 Cambridge Road, which is 3.58 hectares in size, or 8.95 acres of which 1.37 acres is regularly being used ongoing as the designated driveway and 52-space carpark to the sports oval on the southern portion which is leased by council until 2036," Mr Phillips explained.
"When sport is on, the public are excluded from using it socially," he added.
Mr Phillips said being locked down for over 200 days has made locals appreciate the facilities in their own suburbs like never before.
"Had Covid not arrived, the petition was on target to reach around 15,000 signatures," he said.
"Every one of those 7,129 Yarra Ranges residents that signed the petition did so to save all of the remainder of the site. There was no mention of 'part', or 'some' in the publicly displayed petition's preamble," Mr Phillips said.
Speaking to the Star Mail in May, Kilsyth resident Janis Floyd said the suburb had seen its fair share of "apartments, subdivisions and units going up" recently.
"And you see the mothers walking their babies on the streets. Elizabeth Bridge Reserve is getting so crowded with all the people moving into the area that they have started bringing down their own tables and chairs," Ms Floyd said.
There are currently 3,914 ribbons tied along the boundary fence of the old school property in support of the site being retained as community space. The Facebook page, 'Save 150 Cambridge Road, Kilsyth – former Pembroke High School site' also currently has 615 members.
Mr Phillips believes council have until September 7 to make a decision on purchasing the site.
"We do have faith and hope that they will vote in favour with good foresight, particularly for our future generations outdoor social interaction needs, particularly as our open space resources are disappearing quickly, if not already exhausted," Mr Phillips said.
"In tight financial times, similar to household budgets, some wants may get put aside for the sake of needs, but considering this is overdue and needed, this just needs to be done and put behind us," he said.
"It's been nearly two years now since my wife and I went in to gladly bat wholeheartedly, and still are, for our community on this one for the sake of what is fair and right for the social needs of all of us that live here.
According to the council letter, councillors are scheduled to be briefed on the matter in early August. Following the briefing, a formal public report will be put together for a decision to be made at a council meeting at the end of August.