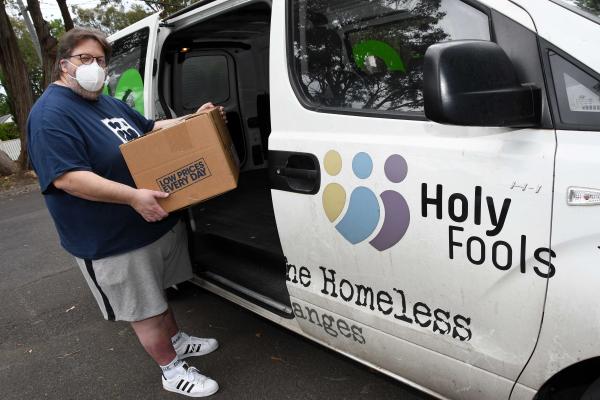 By Mikayla van Loon
People don't stop needing food or a home cooked meal just because metro Melbourne has been thrown into another lockdown.
For those sleeping rough, without suitable housing or work or those just struggling to get by, services like Holy Fools' Street Angels become an essential.
"We still have a lot of people who rely on us for food, and some staple grocery items and things like that," Holy Fools CEO Neal Taylor said.
"And just as a point of contact for a lot of people who might be right at home by themselves for a week and this is at least an outing for essential service for them."
Mr Taylor said at least 10 familiar faces were missing from the regular Street Angels lunch service on Wednesday 18 August.
"Today we were down in numbers and I think that's just because people are a little bit scared to come out now, mostly because the restrictions have gone a bit tighter," he said.
The 5km travel rule has possibly also prevented people from seeking a cooked meal from Street Angels but Mr Taylor said under the restrictions, people are still allowed to go out to get food.
"I think people just get scared. People maybe are not informed or a little bit scared and not understanding the rules a little bit," Mr Taylor said.
During last year's lockdowns, Mr Taylor received a welfare list from Lilydale's Anchor so that Holy Fools could deliver meals to people in need.
"That was really tough because we didn't feel like we were connecting with people and we were often sometimes seeing people and would be the only ones they would see in a week. So this was really hard on both us and the people that we usually work with."
Ensuring food didn't go to waste from Wednesday, Mr Taylor went to deliver some of the meals to people who he knew would benefit from a chat and a lunch.
Like other lockdowns, many people who had been sleeping rough have now been moved into motel and hotel accommodation.
Although not operating to full capacity, Street Angels are still doing take away meals during lockdown which are catered by a local business.
Running every Wednesday from midday, the Street Angels set up in Melba Park in Lilydale not too far from the playground.