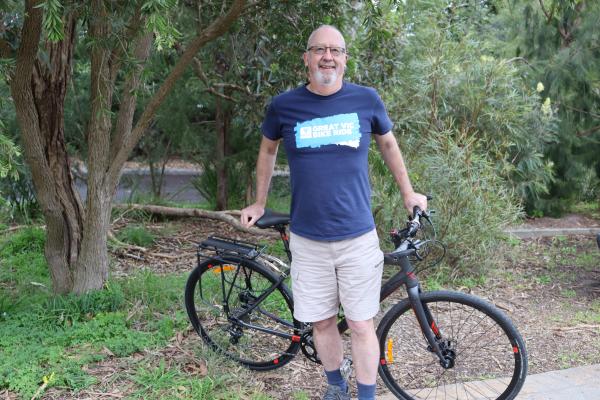 By Mikayla van Loon
Imagine travelling to some of Victoria's most scenic, picturesque and breathtakingly beautiful views.
Now imagine getting to experience this serenity while cycling on some of Victoria's best known roads.
This year will be Steve Carolan's eighth Great Vic Bike Ride and this time it will be taking him to Rainbow, The Grampians, Halls Gap, Dunkeld and Great Western.
Mr Carolan has been riding for about 30 years but after getting tired of the same old Lilydale route he decided to give the Great Vic Bike Ride a go.
"I got a bit jaded riding the same old thing and the Great Vic Bike Ride was a chance to mix it up every year and you would be riding in different conditions and places," he said.
"It just appealed to me because I thought it would be a way to vary my riding experience and not just do the same old circuit every weekend."
Each year a group of Mr Carolan's riding friends join in on the traveling bike ride, seeing some of Victoria's greatest sites.
"I really like going to places that I normally wouldn't go to in Victoria and there are some really nice historic towns. It's just great. And riding on a bike too, you get a much better appreciation of travelling."
Past rides have travelled through the Great Ocean Road, the Otway National Park, The Grampians and through the Goldfields.
Mr Carolan said "it is just magic" experiencing the outdoors, the open air, natures' sounds and environment on a bike.
It is a chance to get some peace and quiet while still travelling and sharing the adventure with friends.
"I wouldn't have ridden that far on my own, so it was great to have that company of fellow bike riders and a group of mates as well," he said.
"If you don't mind going a bit slower and if you don't have a set place where you want to be and got to be, it's just an adventure."
At the end of a long and potentially hot day, Mr Carolan said you tend to feel a sense of pride and achievement when you've just completed 80km or so.
"Some [rides] have been interesting in other ways, when you get a hot section and you've got to do 80 or 90 kilometres and that's a challenge too but you've got to take the good with the bad or the not so interesting stuff with the rest because that's what it is all about. It's a challenge to do the whole thing and you just enjoy what you get."
The Great Vic Bike Ride is planned for the end of November. The 537 kilometre route is expected to attract over 3,000 people from across Australia.
Out of the nine day trek, Mr Carolan is most looking forward to riding through The Grampians and making a stop at Dunkeld to witness the extraordinary views.
"Riding through The Grampians is a really interesting ride, it's spectacular scenery."