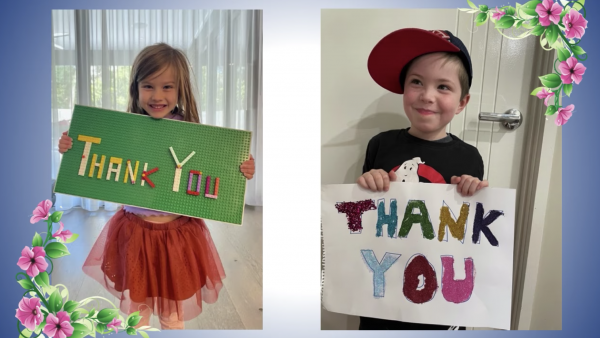 By Mikayla van Loon
It's not often that teachers get a special thanks from their students in the middle of the year, let alone one that comes as a complete surprise.
Mooroolbark's Rolling Hills Primary School (RHPS) students, with the help of their parents, put together a thank you video which was shared with teachers, admin staff and support staff at a recent staff meeting.
Acting assistant principal and wellbeing coordinator Emily Murcott said except for the teachers who have children at the school, it came as quite a surprise for most of the staff.
"I had one particular staff member who just said she was brought to tears by it and she thought it was just gorgeous and the time and effort that had been put into putting it together was overwhelming," Ms Murcott said.
Over the last 18 months or more of lockdowns and at home learning, Ms Murcott said RHPS's teachers and staff members had had their fair share of ups and downs but receiving a thank you couldn't have come at a better time.
"I just thought it was fantastic and it came at a perfect time because the extension till the end of the term had just been announced," she said.
"Although we had an inkling that that was going to happen, this was actually a really good brace for them to feel like they actually were appreciated for what they were doing."
As a parent of a Grade 3 and Grade 6 student at RHPS, as well as being a member of the school council, Tracy Lynch said this video also allowed her children to reflect on how appreciative they were to have their teachers.
"The effort they put into it and the ideas that they came out with were really amazing. So I think it was good for them to go, actually, 'yeah I do really appreciate the school, I do really appreciate my teacher or that special someone who's been helping me out'," Ms Lynch said.
"Whereas it's very easy, I think, to overlook that when things are tough. The kids had a great time making it and they've each come up with their own twist on things."
Students were asked to create an artwork or a five second video to say thank you to whoever at the school had been helping them get through the year at home.
Ms Lynch said the creative side of the students really shone with children jumping on trampolines, doing handstands and cartwheeling their messages to their teachers.
For Ms Lynch's children, they used lego to say 'thank you' but it was more than just the words themselves.
"It started off grey and dull and then across the word 'thank you' it turned into colour and the background all got coloured and flowers and that sort of stuff," she said.
"So the message behind it was that things were really dull and lifeless and then the teachers got really involved and helped them at schooling and things became more fun and that's where the colour all comes into it.
"It was lovely to see that that completely came from the kids. That was the way that they felt, that things had changed because people were involved in helping them."
Although remote learning has been tough on everyone, Ms Murcott said RHPS has really tried to remain positive and keep the engagement of students there by receiving feedback from parents.
"We've had one of our classes have 100 per cent attendance on zoom for the last little while and that's incredible for kids to be engaged and their relationship and the connection they have with their teacher is obviously very evident," Ms Murcott said.
"And that's not to put down any other teacher that doesn't have 100 per cent attendance but we've got a pretty high attendance rate here online, which has been just incredible and a real asset.
"The teachers should be absolutely thrilled with the effort that they're putting in, and the support that they're giving the families and the students."
Ms Murcott and Ms Lynch both said without the dedication of the Parents and Friends Group, this video never would have happened and couldn't be more grateful to them.