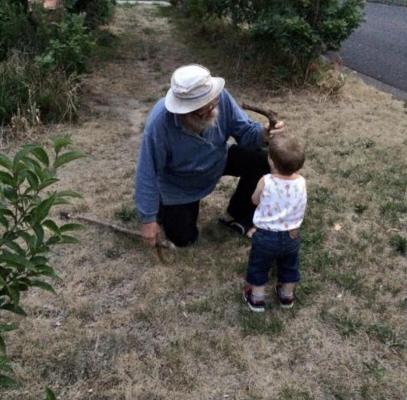 By Renee Wood
If you've lived in the Yarra Ranges for some time or visited here often, then chances are you've seen 'The Walking Man' striding on a trek through the region with two walking sticks.
The man behind the legend and familiar sight was Chirnside Park resident Joe Pulcin, but sadly The Walking Man has taken his final steps and passed away on Sunday 15 August, just shy of his 86th birthday.
Joe was a well loved member of the community, named The Walking Man and previously known as 'The Running Man' as Joe unknowingly made his presence felt one step at a time since 1984.
Joe was seen as an explorer but he was also filled with kindness and had a caring nature, something his neighbours the Cogan family came to learn after moving next door to him nine years ago.
Inga Cogan said, "Joe was a soft hearted, soft natured man who kept to himself, we couldn't have asked for a better neighbour. He will be dearly missed by so many."
The Cogan's met their neighbour when they moved in just before Christmas and he quickly became a close friend.
"Christmas Day came and we noticed he had no visitors, we prepared a plate of hot Christmas lunch and took it over to him.
"Our then one year old Darcy walked up to Joe with his arms up wanting a hug, Joe put his two walking sticks down, knelt on one knee and picked up Darcy and gave him a cuddle.
"We introduced ourselves, gave him his meal and told him we were always there if he needed anything.
"Joe shed a tear, gave us all a hug and wrote us a note to say thank you, we realised then that he couldn't speak. From then on we took Joe over regular meals.
"In the end he was more than a neighbour, he was an extended part of our family."
Joe was Croatian and arrived in Australia in 1964 and after 20 years he moved to Chirnside Park, which is where he started out on his adventures through the region, becoming an inspiration to many.
"Joe would walk everywhere, no matter whether it was sunny, cold, raining or blistering hot – if Joe wanted to walk, he would, if Joe needed to go to the shops, he would."
Ms Cogan said nothing stopped Joe from getting out and about but home was also his happy place.
"He liked to wander around his garden and he would do incredible things with tree branches.
"When a tree started to grow a bit out of control, he would twist the branches around itself and around the tree, making such pretty and intriguing patterns."
Joe was also a lover of music and artistry and was a talented guitar player and painter.
"He would often sit on his back verandah for hours playing different tunes. He was also a talented painter, with an easel set up in his living room."
Sadly Joe's journey has now come to an end as he walked on to his next life, he will be deeply missed by the community and friends.
"Joe's passing has brought great sadness to our entire community.
"It is going to be a very different Spring and Summer in particular, not seeing Joe walking the streets of the Yarra Valley with his walking sticks," Ms Cogan said.