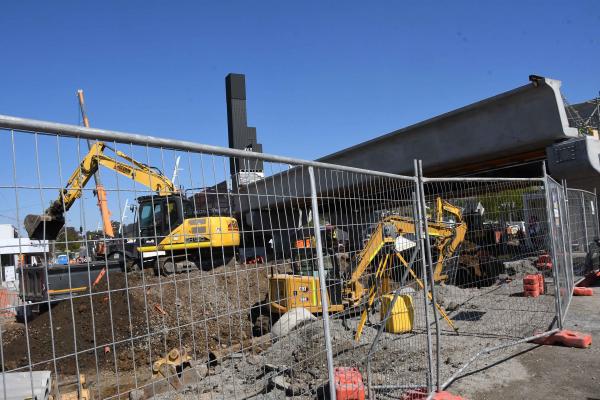 By Mikayla van Loon
Workers at the Lilydale level crossing removal project have been sent home and contract tracing is being carried out after a worker tested positive to Covid-19 during the week.
The positive test result was received on Wednesday 15 September after this person worked a 12 hour shift from 6pm on Saturday 11 September.
Presenting with symptoms on Monday 13 September, the worker did not attend the site after developing symptoms.
"We're working closely with the Department of Health and our workforce to ensure the safest measures are carried out following the positive Covid-19 case identified on the Maroondah Highway level crossing removal project," a Level Crossing Removal Authority spokesperson said.
"The Major Transport Infrastructure Authority (MTIA) has strict COVIDsafe plans across project sites to protect our workers and the community from the spread of coronavirus."
The positive result has halted works on the Lilydale level crossing removal, which could potentially delay the 45 day construction blitz which aims to finish the station by the end of October.
While awaiting further advice from the Department of Health, all team members who were identified as close contacts have been tested and are isolating. The site has also undergone a deep clean.
Traffic management will continue for the road closures at Maroondah Highway and John Street and work is continuing safely at the Mooroolbark station site.
MTIA will continue to work with the construction sector to implement better Covid-19 safety measures.
"All MTIA project sites, including the Level Crossing Removal Project, have strict rules around physical distancing, wearing masks, QR check-in codes and increased industrial cleaning," the spokesperson said.
"This is ramping up even further to support the Government compliance blitz and ensure our workers are doing the right things to stay safe."
Almost 10,000 COVIDsafe inspections have been carried out on MTIA worksites throughout the pandemic.
The Level Crossing Removal Authority said it would be increasing those checks across all sites, in an aim to prevent future outbreaks and ensure its workforce is doing the right thing.