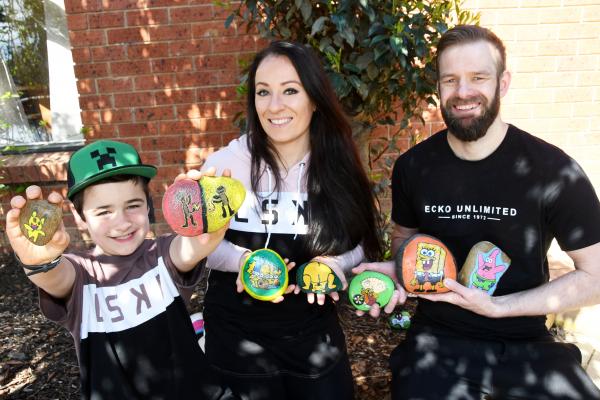 By Renee Wood
A Coldstream family has been turning rocks into little masterpieces to hide around the area for children to find on their daily walks.
Shonnie Scott, husband Simon and their children wanted to start the trend up locally after recently moving to the area from Mooroolbark.
"In parks around Mooroolbark there's a lot of rocks around to be found that people were painting and kids would either keep them or rehide them," Shonnie said.
"We moved to Coldstream earlier in the year and there wasn't really many in the parks, so the kids and I started to do that again and we've been painting heaps through lockdown and taking them out at night to hide them."
It's part of a social media phenomenon called 'Vicrocks' where families decorate and hide rocks throughout the state for children to find and re-hide in a new area.
"People like to look on the Vicrocks Facebook page to see if their rocks have been found.
"But the idea before the pandemic was, you'd actually keep the rock and when you went to a different park or maybe on a holiday, you'd hide it somewhere there and then post it on Vicrocks so you can see how far in Australia or around Victoria they would get."
So far the family has decorated 60 rocks with colourful characters and scattered them throughout local reserves and playgrounds, waiting for a young passerby to spot the small artworks.
Shonnie said it's helping drive down screen time and growing the kids thirst for exploring.
"When I was younger, I loved going for walks and exploring and I find my kids weren't really into that as much as me, but this has actually motivated them to want to go out in the hope they'll find a rock or hide them for the other kids."