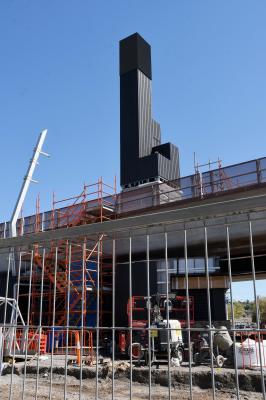 By Mikayla van Loon
Digital artists from all over are being asked to submit their expressions of interest to be featured at the soon to be built Lilydale train station.
The Level Crossing Removal Project (LXRP) is seeking submissions from screen-based artists for a public art piece which will be displayed on the new Lilydale Station clocktower digital screens.
"We're excited to launch expressions of interest for an artist to deliver public artwork on a digital screen at the new Lilydale Station, the first of its kind on any level crossing removal project," LXRP program director Steve Brown said.
A digital artwork of this kind has not been commissioned on any other level crossing project but LRXP wanted to incorporate innovative designs and use of technology at Lilydale to really separate it from the rest.
"Projects such as the level crossing removal at Maroondah Highway provide the opportunity to leave a lasting legacy for the local community – and we're asking experienced artists to consider getting involved in this transformative initiative," Mr Brown said.
The zinc-clad tower will be highly visible, standing at over 15 metres high, making it an unmissable feature in Lilydale, with LXRP describing it as "a key destination and public building in the centre of the suburb."
The artwork will be placed on all four sides of the clocktower and is expected to contribute to wayfinding and placemaking within the precinct.
The integrated artwork brief highlights the need for the digital artwork to "contribute to a greater sense of identity and place" while having a "strong consideration and sensitivity to local community aspirations, character, themes, and heritage."
The commissioned artwork must have the longevity to withstand the 20 year contract period.
LXRP is open to themes and designs, which will be assessed by the Art Steering Committee as part of the shortlist process.
Artists will be assessed based on criteria including artistic merit, contribution to the local area and capability to work with project teams on a complex project.
Artists can find out more information and submit their expression of interest by 8 October at tprojects.co/lilydale