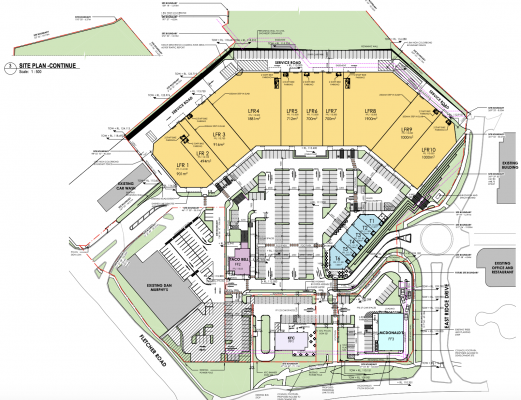 By Mikayla van Loon
Three fast food giants will be coming to Chirnside Park, with a multi million dollar complex given the go ahead to start construction.
Yarra Ranges Council approved the planning application for the $15 million food and retail premise proposed for the vacant block of land located at 266-268 Maroondah Highway.
The site, situated between Fletcher Road and East Ridge Drive near Dan Murphy's, will see the building of ten retail premises, three convenience restaurants including KFC, McDonald's and Taco Bell, as well as five shops and a food and drink premise.
Troon Group purchased the three hectare property 12 months ago from German company Kaufland and submitted the original planning application in January this year.
Managing director Tom McInerney said he felt the whole process of working with the planning officers at the council had been a positive and collaborative experience to get the best outcome for Chirnside Park.
"We're not a sit and wait developer, we're a get in there and build developer. So if we're successful, we'll be looking to move straight on to construction," he said.
During construction, Mr McInerney said the building of the site would employ 75 workers, with 160 full time retail positions expected to be available upon completion and a further 118 indirect jobs also created.
"So it's a significant employment opportunity for the community," he said.
Councillor Richard Higgins said he was quite impressed with how the design came together in the 12 month period, as well as the job creation and financial benefit this development will have.
"The additional employment that it's going to generate, it's a fantastic outcome for our local people," he said.
"If this development were to go ahead, it's estimated $19 million dollars will stay local, which has got to be good for the Yarra Ranges and our local communities."
Cr Higgins said he did have some reservations about the reduction in parking. According to the planning requirements, the site should have had a total of 398 parking spaces but it fell short by 56.
"I've been able to work through that with staff and I'm happy in their knowledge that the way the parking is evaluated, that it's allowing for everybody to be there at the same time."
Over the course of the planning process, alterations of the original design have been made to address some of the council's concerns.
Kate Foldi, who worked on the plan and spoke at the council meeting on behalf of the applicant, said she thinks they have "delivered a high quality, balanced design response" which will suit the Chirnside Park Activity Centre.
The council's report stated that because the fast food outlets would be "the primary presentation to Maroondah Highway" it "has the potential to be a poor urban design outcome."
To overcome this concern, Ms Foldi said the design now includes more landscaping, including canopy trees and a more definitive pedestrian path.
"We've had some challenges but we've made some significant alterations to those convenience restaurant pads across the front to remove the drive through windows and replace those frontages with highly activated and extensive glazing, internal dining and play spaces and outdoor dining opportunities and landscaping," she said.
Inclusions of better pedestrian access on East Ridge Drive, as well as terraced areas with landscaping have all been welcome additions to ease some concerns about building designs and lack of parking spaces.
The council voted unanimously in favor of approving the application at the council meeting on Tuesday 12 October.