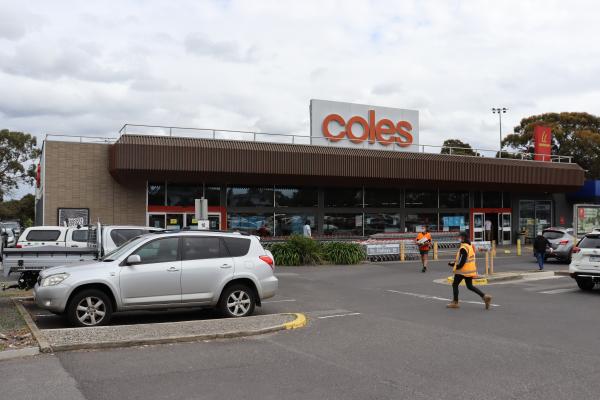 By Mikayla van Loon
Plans are in motion to replace Kilsyth Coles with a Dan Murphy's, leaving other businesses in two minds about what it will do for the shopping complex.
The 2,183sqm property was sold to an investor in August last year for $4.25 million and plans have since been submitted to Yarra Ranges Council to use the land for the sale of packaged liquor.
Endeavour Drinks Group has also applied for a liquor licence from the Victorian Commission for Gambling and Liquor Regulation, which has been advertised on the side of the building.
Coles currently leases the space on 18/518 Mount Dandenong Road on a month to month basis and Savills real estate, who sold the property, noted the opportunity to redevelop the site.
As a flexible commercial zone one property, it does have the potential to be used for retail, commercial and/or residential purposes.
While social media comments suggest the majority of local residents would like to see a Dan Murphy's move into the premises, local businesses say otherwise.
Karen and Shane from Alan's Bakery said they would much prefer Coles to stay.
"We much prefer the idea of a supermarket and we use it every day basically to go there and get bits and pieces so we would much rather it be Coles," Shane said.
As a bakery and cafe that services eldery people and families, Shane is worried about the different clientele a Dan Murphy's would bring to the shopping strip, as it could mean less of those demographics would shop in the precinct.
"It could mean less customers probably here too because a lot of people are probably going to go to the Mooroolbark Coles and not everyone drinks so they'd be over here wouldn't they," Karen said.
Sylvia from White Cockatoo Cafe, who has worked at various shops in the precinct for 20 years, said the shopping strip certainly needs a revamp but she would also prefer a supermarket.
"It needs a little bit of a revamp, it needs a little bit of tidying up of course. It's old, you only have to look around to see stuff falling down. It just needs a good tidy up and modernisation," she said.
"I mean I know it's not the best Coles in the world but it's got bread, milk and a lot of older people go there."
For Sylvia who does not drive and walks to and from work, as well as stands on her feet all day, having a supermarket so close to where she works allows her to pop in and pick up her groceries after finishing for the day.
Sylvia also raised concerns about the demographic of people who would come to the area to shop at the Dan Murphy's.
There is currently no timeline for when the application to Yarra Ranges Council will be out on advertising but the works of obtaining planning permission are in motion.