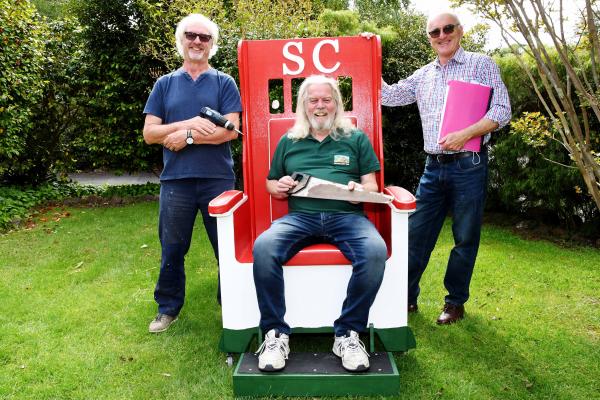 By Mikayla van Loon
The countdown to Christmas is on. It's time to start preparing for family gatherings, gifts and where to go to catch a glimpse of Santa Claus.
Three men from Croydon's Men's Shed have been busily working away in their workshops to build a chair specifically designed for Santa when he is ready to visit us here in the Southern hemisphere.
Approached by the Croydon Chamber of Commerce and Industry, Steve Kentfield, Robert Larsson and Rob Ringholt have spent the last few months designing, building and painting a chair just right for Santa Claus.
"We received an email from them asking if someone could help them out and that they were choosing someone to help build them a Santa chair for the Main Street Croydon," Mr Ringholt said.
Mr Larsson said the chair will be used for Main Street's Christmas festivities in December but the chair is ready to be handed over in the next few weeks.
With no real specifications, except a photo and it needing to be colourful, Mr Ringholt said the structural elements were completely up to them.
"So from the picture Rob sketched something and then we had to worry about, of course, the weight distribution and where the kids are going to sit to make it safe, so it's probably over engineered somewhat," Mr Ringholt said.
Croydon Men's Shed takes on about three or four community projects like this one each year.
"It's the projects like this that make it a lot more fun, we've all got our own ideas or things we want to do in the shed but when things like this come along, it's a bit extra, so you've given something back," Mr Kentfield said.
Mr Ringholt said the Men's Shed is always up for a challenge and are happy to offer their services to community organisations.
"I'm sure lots more things would come along if local communities and so on knew that the Sheds can do this kind of stuff, rather than maybe going to professional carpenters and paying full rate for it," Mr Kentfield said.
One of the ongoing community projects Croydon Men's Shed undertakes each year is building the baby coffins for Red Nose Australia and SIDS Treasured Babies in Mooroolbark.
Mr Ringholt said members make about 45 boxes a month or around 500 a year which are then distributed across Australia.
"We make the boxes and paint them and then this group of ladies in Mooroolbark fit them out with a bit of bedding and clothing and what have you. So we are heavily involved in that," Mr Larsson said.
"We've managed to do that in lockdown. We've got members in Croydon North and Lilydale that cut them all up and make them and then we've got a member that's out in Coldstream that has been painting them."
Mr Larsson and Mr Ringholt agreed they have never turned down a job when it involved a community in need.
"Because of Rob and the rest of the committee and some of the guys, if we can put stuff back into the community, we will do," Mr Larsson said.