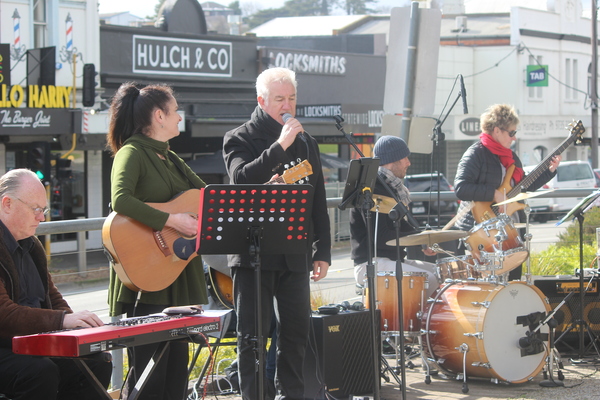 By Mikayla van Loon
Three years ago Dandenong Ranges Music Council set out to tell the stories of local Vietnam veterans through a project called Forgotten Heroes.
As a Yarra Ranges Council 2022 Grants for Community recipient, the vision of performing live and sharing the stories of returned personnel who had felt forgotten is one step closer.
Program director Cath Russell said having done a project on the Anzac centenary, members from local RSLs, like then president of Mount Evelyn RSL Roger Boness, asked when a project on the forgotten heroes of the Vietnam War would be done.
"I had never really contemplated that Australia had conscripted our young men and I've never sat in an RSL and spoken with these, I guess, senior members of our community who you see down the street but to suddenly realise what they've been through in their early 20s was a real eye opener for me," she said.
Putting some of what she had heard into a song with the help of Peter de Ryk, Ms Russell has since expanded the project to short films and eventually the music and visual elements will come together in a live performance at Burrinja in Upwey.
Having sat down with veterans from Monbulk, Mount Evelyn, Upwey-Belgrave and Boronia, Ms Russell heard their stories and was able to use the power of music when words could not.
"Sometimes people just can't stop talking. And sometimes, it's really hard to start. That's really the place where the music comes in and begins to express what people have experienced," she said.
"I love the power of music, to speak the unspeakable. Music can contain so many experiences, or so many feelings and nuances that words simply can't reach sometimes."
Ms Russell said movies have given people a skewed perception of what it means to be heroic, that battles fought are not always won and yet that still makes someone a hero.
"I think soldiers are people and I think they need us in the present day, to recognise them as that.
"The people I speak to have been through something extraordinary, extraordinarily traumatic, but also extraordinarily bonding."
When Vietnam's soldiers came back to Australia, Ms Russell said they found it as they had left it and there had been no bridging back to normal life after what they had experienced.
"That was a struggle for the Vietnam veterans and the Australians didn't quite understand that that was necessary. I think for our Vietnam veterans, they're still struggling with that."
The grant of $10,000 will allow Ms Russell and her production team to help bridge the gap between Australians who did not fight in Vietnam and those who did.
Musical elements really are the central storytelling tool because they draw on the '60s and '70s music that would have been playing throughout the Vietnam War.
"It's a very profound memory. We know that the points in our lives where we retain music as a memory trigger, deeply include our early adulthood.
"So being able to involve the tunes or the cadences, or the rhythms, or the sounds of things like the fenders strap, or a deep bass and certain drum beats are an amazing way to evoke an atmosphere."
Ms Russell said while the music is the focal point of the live performance, the films will show archived footage from the National Vietnam Veterans Museum to help audiences visualise the environment Vietnam veterans returned from.
"It's important to me to share stories effectively and engagingly, to give audiences aside from veterans an opportunity to walk in the shoes of the people in their community who have had fairly extraordinary experiences."
With the return of Afghanistan's soldiers, Ms Russell said she hopes a similar project can honour the service of the young Australians who fought in the peacekeeping efforts.
"The Australian public, really, we need to find ways to reach out and check in on the wellbeing of the younger vets."
The Forgotten Heroes live performance is scheduled to go ahead in the second half of 2022.