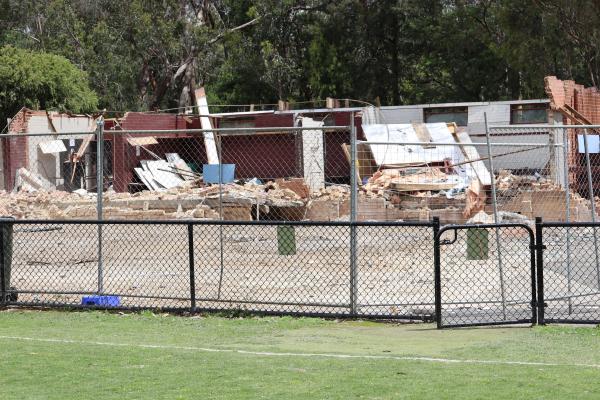 By Mikayla van Loon
Trucks and excavators have been onsite at the Mount Evelyn Recreation Reserve this week to get demolition underway of the old sporting pavilion.
This is an exciting step towards getting the brand new two-storey building built after months of delays due to Covid-19, storms and planning issues.
According to Melbcon construction workers, as they began demolishing it, the original building had three roof lines, meaning it had been extended at least twice.
On Thursday 11 November, all that remained of the building were the external walls, some interior dividing walls and the foundations.
Having started demolition works on Wednesday 10 November, it only took a couple of days to see the old building fade to rubble.
Although sad to see it go, Mount Evelyn Sports and Community Hub (MESCH) president Bryan McCarthy said it was time.
Each month, construction workers aim to have something new completed, beginning with the pipework and plumbing before foundations and a slab can be laid.
Construction of the building is set to be complete in 12 months time, ready for the local community to use as a sporting facility and meeting space.
MESCH plans on sharing progress reports with the community as the structure is built.