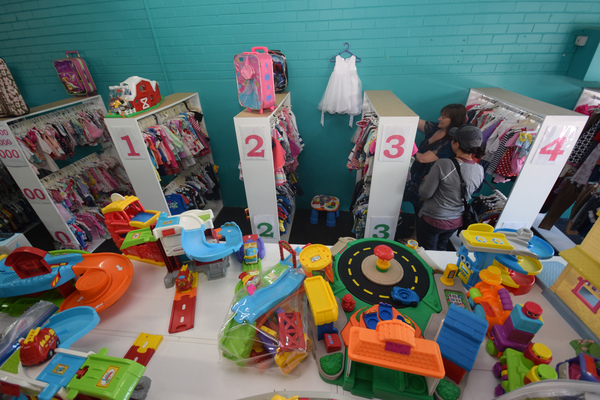 By Mikayla van Loon
As most people rush to shopping centres to buy new toys for Christmas, one shop in Mount Evelyn is helping people recycle those unwanted or unused items while saving the environment.
The community driven Pipsqueakz Recycle would have normally been prepared for the lead up to Christmas and for the summer intake but because of lockdowns owner Rachel Shepherd said they have been in need of good quality toys.
"We usually stop taking consignment at the end of November and we usually get quite inundated but Covid has thrown a big spanner in the works with all our intake," she said.
"So basically [we need] any toys, anything in good clean condition from baby toys right up to older kids toys."
Ms Shepherd said Lego, action figures, PAW Patrol, Bluey and any traditional toys like Barbies, trucks and cars are really popular.
The weather has also been playing havoc with the Pipsqueakz' intake, as the chill of winter still remains, Ms Shepherd said people are still buying winter clothes.
"So usually we're taking summer stuff right now but we've ended up with a shop of winter stuff now that the weather's awful we're selling winter and not the summer that's pouring in," she said.
"We've actually had to stop taking summer clothes because we've just got no space because the weather hasn't been conducive to selling summer stuff."
Over the next two to three weeks, Ms Shepherd said Pipsqueakz Recycle will be busy with selling toys and clothes as presents for Christmas.
While the shop operates on consignment, meaning the donor gets an account and customer number so when their items sell they get 40 per cent of the profits, Ms Shepherd believes for most people it's not about being able to afford new toys and clothes but about the environment.
"I feel like we sell more to people who are just environmentally conscious. And once you've had kids, you realize that with the toys, they grow out of them so quickly.
"So to pay like $40 for a new toy that might last a few months, or they might not even like, where you can come here and get it for eight or $10 kind of thing.
"So they know that they can sort of get a good bargain and save the environment and save money at the same time. I really do feel like it's not all about not being able to afford stuff. It is a lot about reusing and not wasting plastic."
While not entirely about affordability, Ms Shepherd said knowing the money spent on these toys and clothing items goes back into the community is really rewarding and people can use the credit from their donated items in store again or withdraw the cash to use elsewhere.
Everything the shop sells is of the highest quality, including wooden toys and well known brands of clothing.
In the lead up to Christmas, Ms Shepherd would like people to consider the environment before purchasing cheaper clothing or plastic toys and would encourage people to shop second hand.
"So many people are like 'oh I'll just go to Kmart' and the kids will wear something a few times and then it's literally like disposable clothing. They just throw it out because it only costs a few dollars and it stretches and goes all yuck after a few wears.
"Whereas people are realising that it goes to landfill or they're sending a lot of the clothing like that overseas now that's been donated and then overseas don't want it anymore.
"There's this whole huge thing about landfill and where all that stuff's going so a lot of people are happy to come here and we only sell, in clothing, the better brands so it's more quality that can be worn by a number of kids not just be disposable."