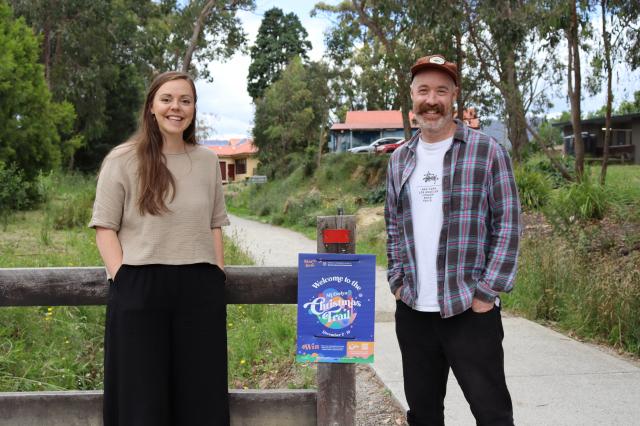 By Mikayla van Loon
When it looked as though Mount Evelyn's Discovery Church wouldn't be able to host its carols in person, an idea sprouted to get people outside and back to the community.
Moriah Weston, Dan Hickingbotham and Lissy Donovan organised the Mount Evelyn Christmas Trail, with 12 stations along the Warburton Trail to be found.
"We just sat down and thought about what can we do? What's the need? And we decided small businesses could really use our support," Dan said.
"So we decided this was going to be our Christmas expression to do something to support small businesses and create a bit of community fun and joy around Christmas."
Each station has an activity or competition, with prizes supplied by local businesses for each station entry, as well as a colouring competition for the children.
Moriah and Dan said they wanted the trail to be interactive, so although everything is shared on social media, the activities prompt everyone to share their baking, favourite Christmas lights or tag somewhere that brings them joy.
With three prizes to be given out each day until 19 December, people have a big chance of winning.
Wanting to reactivate the community this year in particular, Dan said he does see this becoming a regular Christmas activity.
"I'd love to see the Christmas trail becoming a thing that people come to expect and look forward to," he said.
"Especially now that we've got the following on, we can kind of just each year, a few months out, start promoting it and build on it," Moriah said.
"One of the original ideas was to be a bit of a scavenger hunt for kids, so I think it'll be the kind of thing each year we bring a bit of creativity to."
The trail stations can be located between Birmingham and York Roads. To print the colouring competition designs or find out more, go to https://discoverychurch.com.au/christmas-trail/
This year the carols will be held online on 18 December from 7pm via Youtube or Facebook.