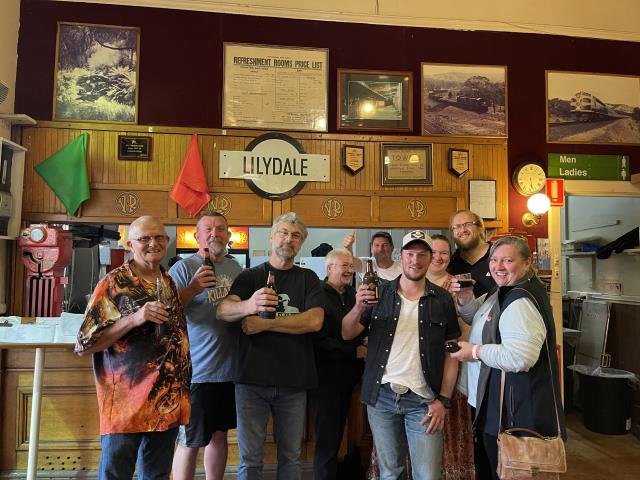 Re-read some of the biggest news moments from 2021.
The unnamed soldier returns
The soldier was returned to the top of the Lilydale Main Street War Memorial in March 2021 after Lilydale RSL members pushed to complete the project envisioned by late club presidents Don Parsons and Paul Payne.
Lilydale RSL's president, Bill Dobson said Mr Parsons and Mr Payne, who both sadly passed away in 2020, had done "a lot of preliminary work" in getting the project happening.
"It's in its place now and is really noticeable as you drive up the road from Lilydale. We have had a lot of fantastic replies from people that are delighted that it is finished which is wonderful," Mr Dobson said.
"It was very important that we did this because those two blokes (Parsons and Payne) probably had 30 years experience with the RSL, plus a lot of great friendships. They were our two stalwarts of the club and revered mates, so we had to follow through and make sure this happened," he said.
The original statue was unveiled in 1922 but removed in 1930.
Commemorating Anzac heroes
Local historian Anthony McAleer, who spent 30 years researching the history of Lilydale RSL, compiled his findings in a book commemorating 100 years of the Lilydale sub-branch.
"It all started in the lead up to the club's centenary, which was happening in 2019, they wanted to produce a history of the club seeing as 100 years is a significant event," Mr McAleer said.
On Anzac Day, the feeling of relief to be able to commemorate the fallen soldiers of World War I and conflicts since, was something special.
"The reason we're here today is because on this day in 1915 on the shores of Gallipoli, was the first major military campaign for soldiers from Australia and New Zealand," Lilydale RSL Sub Branch president, Bill Dobson said.
"Ever since then for more than 100 years, the men and women, navy, army and airforce, have honoured the memory of our original Anzacs."
It was the first service held with the returned soldier standing atop the cenotaph paying homage to the many soldiers who did not have gravesites.
"It's great to have him up top there because it just reminds people of when they first came back, one of their aims was to build these cenotaphs out of respect and they thought if the community can keep honouring that day, Anzac Day, then they'd be very pleased," Mr Dobson said.
"And we're still here today. It's just fantastic that people are still honouring that commitment."
Community spaces hang in balance
One of Lilydale's hidden gems, the pub at the station came under threat in May, with officials from VicTrack to decide the future of the bar and refreshment room once the level crossing removal project was complete.
It was the only station on the network with a licensed venue and had a deep-rooted history travelling back as far as 1914, when light refreshments were first served in the building.
Thousands of Kilsyth residents and business owners rallied together in May to protect the land at 150 Cambridge Road that was once the home to Pembroke High School's Kilsyth campus.
A sea of ribbons lined the boundary to the lot, with community members tying over 2,100 ribbons to the front fence and 130 at the rear to show their support towards retaining the space as open parkland.
"We're fighting to have it kept as a passive open space because it is really needed for families and for kids to have somewhere to play and people to exercise," Kilsyth local John Phillips said.
White Dog and culled kangaroos
In June, the Star Mail presented the history of the White Dog Hotel over two weeks, reliving the life of the Bramich family and asking the question of what is to come of the once bustling pub.
The Heritage Golf and Country Club was forced to halt a planned cull of a mob of kangaroos in April this year following public outcry and a number of vigils staged by residents and activists.
Residents were notified at the eleventh hour that a licenced shooter had been contracted to conduct a mass shooting at the club overnight on Tuesday 27 April.
In the face of mounting protests, golf course management announced that the shooting had been called off, but fresh evidence presented to Wildlife Victoria indicated there had been regular killings of kangaroos over those weeks to June. *
"What we're seeing is the result of a prolonged and sustained attack on the kangaroos living at the property. Someone is clearly attempting to reduce kangaroo numbers on the grounds by stealth," Wildlife Victoria CEO Lisa Palma said.
Two types of smoke
A part of Lilydale's history was demolished last week as machinery moved in to bulldoze the former CFA building on Main Street.
In May, CFA crews were called to a fire at the building, which was deemed suspicious and caused internal damage to the structure.
Lilydale and District Historical Society president Sue Thompson said it was an example of demolition by neglect.
"This was Main Street's only remaining example of a 1930s building and the council's own Heritage Architect back in 2019 recommended its listing on the council's heritage overlay but nothing happened."
With the sound of the whistle and the puff of smoke, anticipation built as two steam engines rolled into Lilydale train station on Saturday 10 July.
The historic moment paid tribute and said farewell to the old Lilydale station building before it is replaced with the new skyrail station in coming weeks.
"We try to operate our steam engines around Victoria and we decided it was a good opportunity to go down and use the station prior to it all being changed," member of Steamrail Victoria's operations team Edward White said.
Two extraordinary children
Lucy McAleer is a thriving eight-year-old, who loves green sea turtles, watching Harry Potter and playing basketball.
Lucy was diagnosed just three days after her eighth birthday with a rare form of brain cancer known as Diffuse Intrinsic Pontine Glioma (DIPG).
In as little as three weeks, two GoFundMe pages had been set up for the McAleer family and in that short amount of time over $50,000 had been donated to support them.
"It's just a really nice reassurance that we'll be ok and there's so many people out there that care about our family and we know not everyone gets that level of support in situations like this, so we feel very grateful and very touched," Brian McAleer said.
Many minds wonder what happens if you are pulled over while speeding to the hospital in labour, but for little Bonnie Petersen and her parents, that exact question will prompt one of the greatest 21st birthday stories imaginable.
When Jenae Petersen's waters broke around 11.25pm on Saturday 14 August, her husband Paul knew he didn't have time to waste. Ms Petersen had a history of short labours with their two young sons, and Paul wasn't taking any chances on a last minute roadside birth.
"We saw the coppers chuck a u-turn behind us. We kept going, not as fast, but they pulled us over and my husband jumped out and said 'my wife is in labour I've got to get her to hospital'," Ms Petersen explained.
"They shone their torch in and had one look at me and just said 'Angliss? Follow us'," she said.
Making history here and away
September brought with it the withdrawal of Australian troops from Afghanistan after a two decade long war, something that was honoured at the Mount Evelyn cenotaph. Star Mail also covered the local loss of the legend known as The Walking Man, or Chirnside Park resident Joe Pulcin who died on Sunday 15 August, just shy of his 86th birthday.
During such unprecedented times with the pandemic, lockdowns and protests – Victorians added an earthquake to their already shaken up lives.
Geoscience Australia confirmed a 5.9 magnitude earthquake was recorded at 9.15am Wednesday 22 September at the epicentre near Mansfield at a depth of approximately 10kms.
Cameron Betts shared with Star Mail some incredible CCTV footage capturing his office shaking in Montrose.
"It's amazing how much it actually shook, when I logged in and saw it I thought, wow that's a lot bigger than I thought it was."
Schools back scream and shout
October saw the return to school for both primary and secondary school students.
For Year 12 students at Mount Lilydale Mercy College (MLMC), getting back to onsite learning on Wednesday 6 October was not only about having face to face contact but also about reviving their motivation.
School captains Melinda Virgona and Sam Green said had the lockdown only been a couple of weeks, they think their fellow classmates would have coped better but when it kept getting extended, that's when motivation teetered off.
"I felt like I was really motivated through last year's lockdown and early this year as well. I was so productive and everything and happy with where I was at, unlike a lot of other people in our year level," Sam said.
"But even myself towards the end of lockdown was just losing all motivation and not being able to complete any tasks properly or anything."
Melinda said they do feel like missed out on some of those milestones that Year 12 offers.
"It's nice to be back and I'm really happy that we even just get these few weeks to make up for it somehow," Melinda said.
Primary schools were able to return to staggered onsite learning from Monday 18 October, starting with the Preps and Grade 1 students.
"I couldn't wait to have the sounds of children just playing and walking around and just classrooms being filled again with that buzz of learning which is what it's all about," Gladesville Primary School principal Nicki Wood said.
"That's why we became teachers. We didn't become teachers to talk to people on a screen. We became teachers to be in the classroom and feel that buzz of learning happening."
Milestones meet remembrance
With the flag at half mast, Mount Evelyn's veterans and local community members gathered at the cenotaph for Remembrance Day on 11 November.
"Thank you all for making the effort to be here today. It is magnificent to see so many of our community back together again on such an occasion," Mount Evelyn RSL vice president Roger Boness said.
Mount Evelyn RSL also honoured one of its own, by unveiling the Howitzer Gun plaques dedicated to Mr Boness himself.
Remembrance Day was plagued a little bit over in Lilydale, as a poppy donation tin thief emerged, taking a total of five tins from different locations.
"It's only one individual, so we still have belief in the Lilydale community. There are really nice people in the area and it's only one individual, so we can't judge everyone by that," RSL president Bill Dobson said.
"There's a lot of good people out there and one guy who gave us $1000, we said 'look, we didn't lose that much. You don't have to give as much as that'."
The Breaker Morant story is a part of Australian history that has been controversial for 120 years but one Chirnside Park military lawyer has spent a decade trying to clear his name.
Although his work is not done yet, James Unkles helped the descendants of Lieutenants Harry 'Breaker' Morant, Peter Handcock and George Witton receive long awaited service medals for their distant relatives.
"What the medals recognise is that these men served different colonial units in the Boer War and did so appropriately. Their service was unblemished and they never got their medals," he said.
The long awaited stations at Lilydale and Mooroolbark were revealed on Friday 19 November after a construction shutdown delayed the project by a couple of weeks.
People of all ages were curious about the construction and being able to head inside the new stations for the first time.
Local Mooroolbark resident Peter said his son and his wife had been to the station earlier in the morning and they told him he had to head down to have a look.
"It's been a long time coming and as I was just saying to one of the workmen, remembering how the station was prior to the works starting and after having a quick look just now, there's no comparison, it's brought us into the 21st century actually," he said.
Spirit of giving
December was of course all about Christmas and The Rotary Club of Lilydale collected donations of toys throughout November for children in need with the help of local businesses.
Over 700 toys were donated and handed out to families being supported by Anchor in social and transitional housing and to foster children as part of OzChild.
Gerry and Anne van Horick organised the donation drive for the first time and said it was overwhelming to see the support from the community, so much so it will become an annual tradition for the Rotary club.