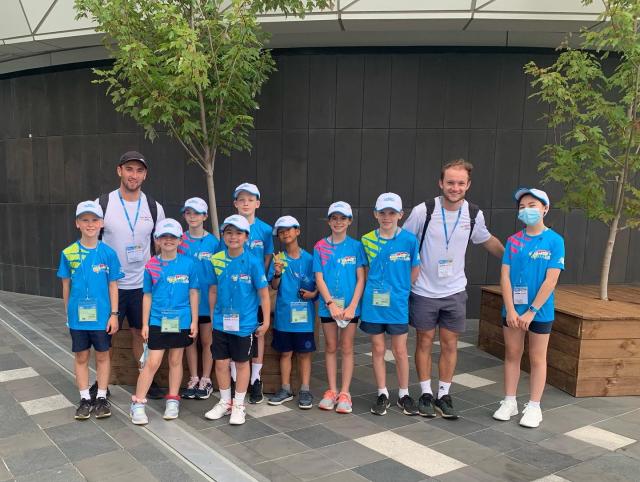 By Mikayla van Loon
Some very excited tennis young guns were able to take the main stage at the Australian Open this week in a special opportunity facilitated by their coaches.
Ten lucky tennis Hot Shots from Tennis For Life in Mooroolbark showed off their skills at the internationally recognised tennis tournament on Monday.
Senior coach Tom Murphy escorted the Hot Shots to Melbourne Park to play on one of the main courts, an opportunity that arose for the tennis club at the end of last year.
"[Tennis Australia] emailed us and said there's an opportunity on this day, Monday 17 to take 10 kids in if you'd like to and we very much wanted to do that. It was something we wanted to do last year as well but with Covid the program didn't run," he said.
Mr Murphy said the club selected ten students who gained entry to the Australian Open for themselves and a parent for the day but it was perhaps the entry onto Rod Laver Arena that excited everyone the most.
"We thought we might be on one of the outside courts, one of the little courts and that would be pretty cool to say 'we've played at the Australian Open' but we got there and they said, 'you're going to be on Rod Laver Arena'.
"So that was an extra bonus. We were all a bit shocked and I think that made it even more exciting."
Both feelings of excitement and disbelief were felt by all the children as they walked down the hall and stepped onto the court just as the professionals do.
"They loved it. They absolutely loved it. They couldn't get the smiles off their faces," Mr Murphy said.
For the young tennis fans, the idea that they had played on the court in the morning before Ash Barty took to the arena later that evening for her first round match was inspiring.
"For a few of them it was actually their first time going to the Australian Open, which was pretty special."
Mr Murphy said the club had to choose the 10 children who got to participate on Monday, something that was challenging but also a nice reward for those students who have been playing for quite some time and have worked really hard on improving their tennis skills.
"We hope that a day like yesterday (17 January) would just keep motivating them to keep doing that work. They're already achieving great things by doing all that work and obviously it's enjoyable for them but this was an awesome little additional award," he said.
As much as tennis was the showcase item for the day, Mr Murphy said he hopes his students understood how lucky Melbourne is to host such an event as the Australian Open and opened their eyes to the possibilities that tennis offers, not only as a player but behind the scenes too.
"There is a very real future in the sport, not only as a player but also as a coach, as a worker within Tennis Victoria and all the additional roles that the tennis industry provides. So things such as administration and medical staff like physios."
Mr Murphy said he was so appreciative that his students were given the opportunity to experience the Australian Open and to take to the court to show off their skills.
"We were very grateful to be able to participate in the program and we're very grateful that Tennis Australia provides that program to the community.