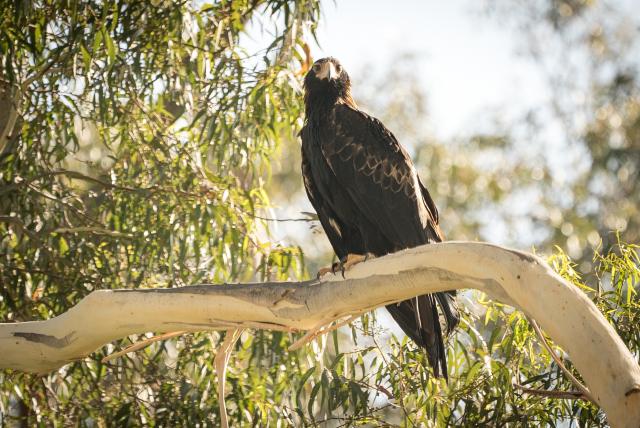 There has been some good news in the wildlife world, with an injured Wedge-tailed Eagle now returned to its wild home after days of special care.
The majestic bird – Australia's largest bird of prey – was found unable to fly on the roadside at Upper Beaconsfield south-east of Melbourne and had been receiving care at Healesville Sanctuary's Australian Wildlife Health Centre.
Associate Veterinarian Dr Chloe Steventon said the Wedge-tailed Eagle was very likely hit by a car, judging from the extensive soft-tissue bruising it received. Fortunately, X-rays confirmed that there were no fractures across its impressive two-metre wingspan.
"This eagle was extremely lucky and recovered quickly while in our care for eight days," Dr Steventon said.
"He was able to sustain about 40 metres of flight and get up about two metres off the ground, during flight testing. That's how we knew he was ready to return home.
"It's always wonderful to send wildlife back to where they came from, and seeing this bird literally fly off into the sunset was something special."
Dr Steventon said rehabilitated animals need to regain a certain level of fitness before release, so they not only survive but thrive. Birds need to hunt and catch their food, as well as escape potential predators.
The Eagle was transported back to its wild home in the new Wildlife Response Unit vehicle, which was purchased as part of a Zoos Victoria and RSPCA Victoria partnership utilising funds from RSPCA's National Bushfire Appeal.
The Australian Wildlife Health Centre based at Healesville Sanctuary can assist with injured, sick, and orphaned wildlife, and is open from 9am to 4pm every day of the year. Call (03) 5957 2829 or visit zoo.org.au/wildlife response.
Sanctuary visitors can also see the veterinary team at work via the internal glass walls of the hospital.
Zoos Victoria members and Healesville Sanctuary visitors are reminded that all tickets must be pre-booked online at zoo.org.au and all ticketholders 18 years and over are required to provide proof of full vaccination and follow current Victorian Government directions at www.coronavirus.vic.gov.au