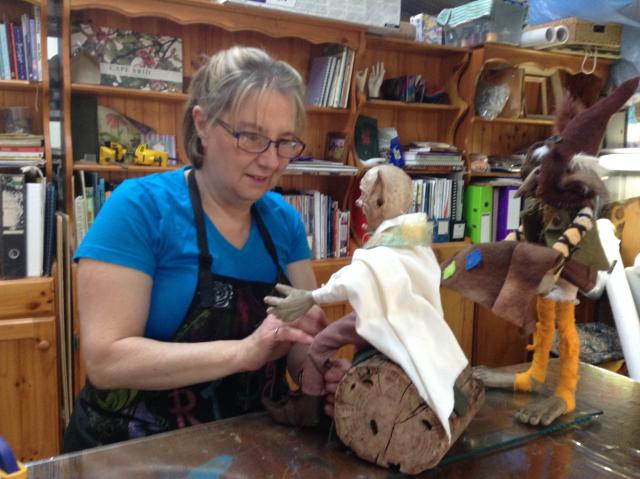 By Mikayla van Loon
For anyone who has struggled to find inspiration after a difficult two years, a new artistic endeavour may be just the thing to kick start the creative mind once again, while also working towards better mental health.
Textile and clay artist Caz Rogers has been funded through Yarra Ranges Council's Art Attack program to host six art workshops in nearby Chirnside Park, with people from all over the shire invited to join.
"It definitely helps with depression because you're not concentrating on feeling left out or being really concerned, your mind is busy creating and solving problems and building things. So textile art is a very good way of allaying negative thoughts," she said.
Art can be an excellent way to relieve stress and distract the mind from what is happening in life but often learning a new skill can be daunting.
Having worked in the past with women who have been diagnosed with mental health conditions, Ms Rogers said she has seen the power of art in relieving trauma, tension and suffering.
"I've seen the freedom from anxiety that it's given them when they've been in the studio, just playing and half the time it is just playing but it's tactile, it's color, it's movement and texture, and you just see the worried look disappear off their face."
Ms Rogers said even throughout the last two years of lockdowns, not being able to see her grandchildren or other family and feeling scared about the future, having something tactile and visual to work on helped her get through the difficult stages.
"Over the last two years with the lockdowns and things, it's been the way that I've actually helped my mental health and stayed in a good mental place," she said.
Seeing the value in what Ms Rogers was teaching, Yarra Ranges Council approached her to apply for the grant, providing her with funding to subsidise the art workshops.
Designed to be a taster class for six different people each week, Ms Rogers hopes those who attend will find a passion for textiles and learn new skills.
"People can come along and learn to felt, they can learn to do other textile pursuits that maybe they've never heard of before," she said.
"Maybe they have a creative spirit and they want to do something but they haven't quite worked out what it is yet. So the taster classes are basically to give them an idea of what is out there with textiles and to get them started on the path of being able to create beautiful pieces of work."
Since retiring Ms Rogers has had more free time to dedicate to her art, something she started doing 38 years ago.
Now she wants to pass on her knowledge to those who need a little bit of a lift and inspiration, while also harnessing her own skills to ensure she stays motivated.
Although Ms Rogers has taught classes in her home studio, this will be the first time she has branched out to host workshops at the Chirnside Park Community Hub.
"Stepping into a new direction and taking my teaching outside of the studio and taking it to the Chirnside Park Community Hub has been one of the best decisions of mine for a while."
Wanting to reach as many people as possible, the full day of Tantalizing Textile Tasters are open to new people each time, with six places available for people over the age of 18.
The first session will start on Monday 21 February and run concurrently until Monday 28 March from 9.45am to 4pm.
The sessions are $25 per class, with tea and coffee, as well as all the supplies provided on the day but lunch will need to be brought by the participants.
To book go to https://www.trybooking.com/BWVSK or contact Caz Rogers via email ripplesonthepond1957@gmail.com.
For anyone who misses out, Ms Rogers will be hosting more classes in May.